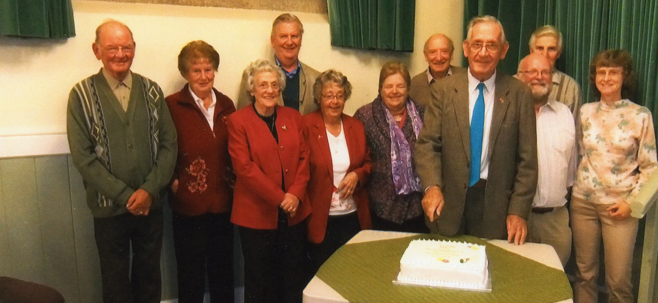 By president and chairman, Jennifer Rendell
IN 1982 Mike Bisson, who at the time worked at the Jersey Evening Post, had the idea to hold a meeting with a view of forming a group of like minded gardening enthusiasts.
That meeting took place at the JEP on 24 February 1982, with over 400 people attending. This was the start of The Jersey Gardening Club. On 24 March 1982, the inaugural meeting was held at Trinity Parish Hall. Mike Bisson was to be the first President of the club.
Over the years the following people have covered the role of President:-
Graham Robins – 1984 to 1985
Mary Whiteley – 1986
Stuart Mottershaw – 1987 to 1988
Phil Bichard – 1989 to 1992
Ailsa Dorey – 1993 to 1995
Owen Savva – 1996
Graham De Gruchy – 1997 to 1999
Bernard Daws – 2000 to 2004
Patrick Bouchere – 2005 to 2012
Jennifer Rendell is the current President having been elected at the beginning of 2013.
The club meets on the third Tuesday of every month at St Lawrence Parish hall. Meetings start at 8pm, but if members, guests and visitors come early they can browse over the sales table, which has gardening related items which members bring along to be sold, with the funds raised going towards the club's fund. Typically, there are magazines and books, plant pots and garden paraphernalia, plants, and sometimes even cakes and jams are brought along, made by members.
Members can also take part in our competition table called 'Looking Good in the Garden'. Here, members can display anything interesting growing in their garden that is looking particular good at the time of the meeting, to show off to other members. It could be a selection of cut flowers, plants in pots, cacti, fruit or vegetables. The only rule is that it has to be grown by the member in their own garden, greenhouse, or conservatory, or in their home, and owned by the member for a minimum of 2 months before it is shown. Members vote for their favourite display and points are awarded for 1st, 2nd and 3rd places. At the end of the year the member who accumulates the most points during the year receives the competition cup which they hold for one year, and so the process continues.
Meetings starts at 8pm when the President makes any announcements before introducing the speaker for the evening. Our speakers are a mix of local people and some from the UK.
Some of the visiting speakers from the past have been Beth Chatto, Nick Hamilton (son of the late Geoff Hamilton), Ian Limmer of Peter Beales Roses, Barry Newman, president of the National Vegetable Society and Danielle Secuin from Rennes, to name but a few. After the speaker has finished their presentation, they usually take any questions from members and then we take a short break for tea and coffee.
During the second half, the "Looking Good" table results are announced, plus any further announcements there may be and a reminder of our next meeting.
We then finish off with the raffle. The meeting usually ends around 10pm or so.
Added extras to our usual meetings, are our own Rose Show in June, and our Grow & Show event in September.
If anyone is interested in coming along to one of our meetings to see if they would like to join, they can do so for a small entrance fee of £3 per person, per meeting.
The annual membership fee is £15 for an individual and £25 for joint membership.
The club is proud to have been fortunate to have some of the most knowledgeable and best known gardening people in Jersey as members of the club: the late Denis Shaw, Mrs Vi Lort-Philips, Mrs Frances Le Sueur and Mrs Margaret Long to name but a few.
Currently, whilst the membership remains around the 100 mark, many are of the older generation and we are always actively seeking younger members, if we are to maintain and increase our numbers.
We are a very friendly and informal club. There is no requirement to be any sort of expert, just to have an interest in gardening and plants. Many members have specific interests and everyone is happy to share their knowledge and experiences.
Whether you are an active gardener now or have been in the past, or hope to be in the future. Please come along.
Our membership secretary is Mrs Sheila de Gruchy who can be contacted on 730058 for more info.