9 December 2013
JERSEY farmers have teamed up with Birds On The Edge to give Jersey's endangered birds a lifeline this winter in the form of seeds and cereals planted in conservation fields.
Birds that used to be common in Jersey such as the Skylark, Stonechat and Cirl Bunting are declining rapidly, whilst others like the Yellowhammer, Cuckoo and Turtle Dove have become extinct in the last decade. Birds On The Edge is a partnership between The National Trust for Jersey, Durrell and the States of Jersey's Environment Department that aims to stop this trend by tackling the causes behind them.
One of the main cause of birds' decline is the lack of winter food in farmland areas, as modern machinery is more efficient and spills less seed onto the fields where birds traditionally feed from. The solution is to plant winter crops especially tailored to produce a mix of seeds and cereals which birds can feed from. The crops contain nutrient-rich varieties of buckwheat, mustard, quinoa, sunflower, millet and barley.
Some farmers have been planting these crops in some fields for some years; Birds On The Edge has teamed up with them and others to carry out surveys across wide stretches of land, surveying birds and identifying the most suitable fields where the crops will be of greatest benefit for the birds and other wildlife. This way the farmers know that they're planting the conservation crop in the best possible area.
Last spring a donation from two private sponsors allowed BOTE to purchase enough seed to cover 100ha of land with conservation crops, which the farmers planted after the potato was harvested. Those fields have been monitored since and recent surveys have found large numbers of birds feeding in them, with locally endangered species as well as migrant birds such as the Reed Bunting, which used to breed in Jersey but now is only a winter visitor.
These crops will provide birds with a constant source of food throughout the winter until the fields are ploughed to make way for next year's Jersey Royals. With the initial positive results of this trial scheme, a grant has recently been awarded by the Co-Op EcoFund that will allow more seed to be planted in 2014 to help the next generation of Jersey's farmland birds survive another winter.
Photo by Cristina Sellares: Mr Ian Le Brun tending to one of the conservation fields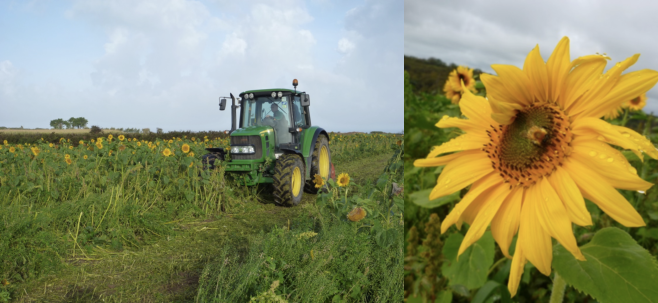 Photo: A Reed Bunting, ringed by local ornithologists to study their wintering population.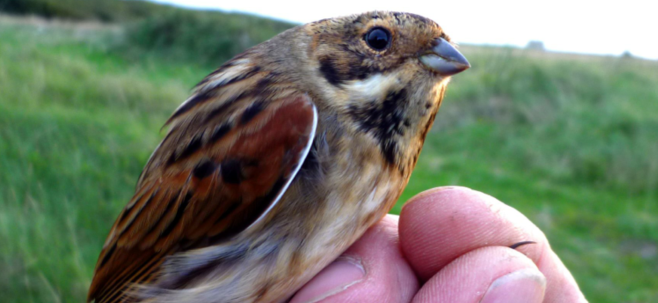 Following photos: Conservation fields in full bloom.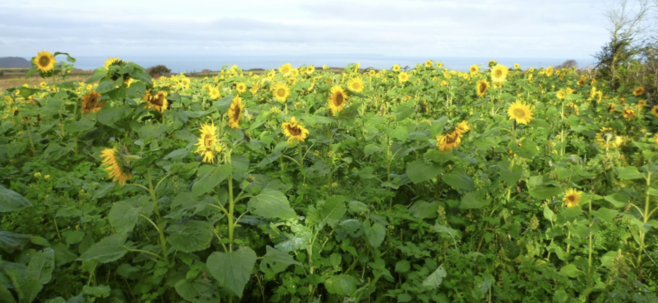 Photo: Goldfinches, chaffinches and linnets perch on the sunflowers to take their seeds as they ripen.