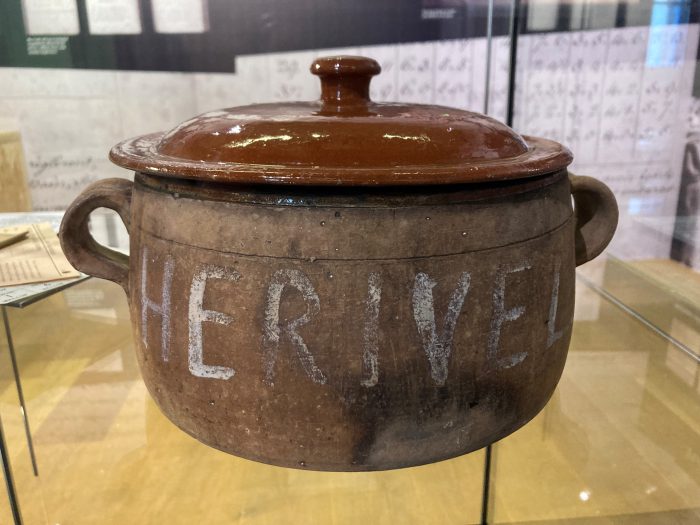 A new exhibition has opened at Jersey Museum, Art Gallery & Victorian House that will tickle the taste buds of visitors, while giving them plenty of food for thought!
'Bouan Appétit!', which means 'enjoy your meal' in Jèrriais, celebrates Jersey's rich heritage of farming, fishing and food and is open daily to the public. It includes the history of food in the Island, from the first farmers in Neolithic times through to contemporary food producers; the changing role of women; times of hunger, such as during the Occupation years; and the hospitality industry.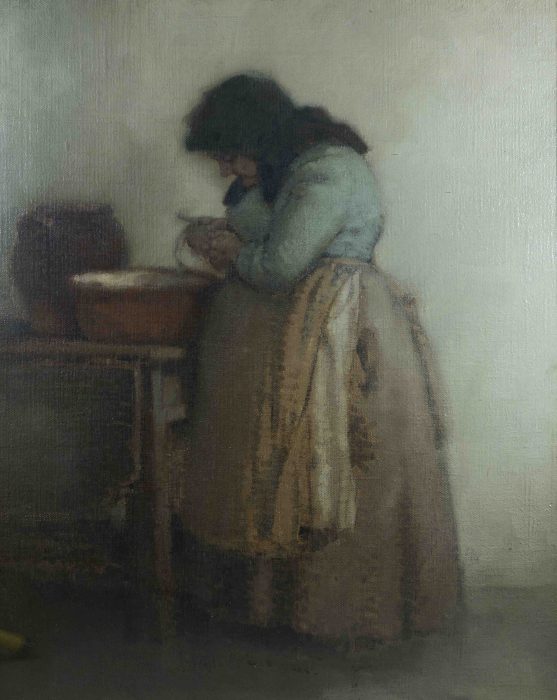 Notable exhibits include 'Tante Elizabeth', an oil painting by Edmund Blampied that was acquired by Jersey Heritage last year; a 1940s fishing log book from Seymour Tower; and a beautiful, hand-painted tomato export book dating from 1946. There are also images from the Maurice Richardson Collection, part of the Société Jersiaise Photographic Archive, taken in the 1960s and '70s to capture traditional agricultural practices. All of these will be on public display for the first time, along with the Jersey Cider Apple Quilt. This impressive community project was finished just in time for the exhibition and celebrates the Island's history of apple growing and cider making.
Lucy Layton, Jersey Heritage's Exhibitions Curator, said: 'From our iconic Jersey Royal potatoes to our world-famous Jersey cows and delicious shellfish, Jersey is celebrated for its food. It is an integral part of our Island identity, which has been shaped by the landscape and the sea that surrounds us. "Bouan Appétit!" invites people to step back in time to find an Island covered in apple orchards when cider was our major export, discover some of the Island's food folklore and local specialities, like the famous "mèrvelles" (Jersey Wonder), and explore how food continues to shape our community today.'
Community is a strong theme within the exhibition, which includes Genuine Jersey products and producers; a 'hedge veg' stall with local produce; and an exploration of international cuisine in the Island involving shops and restaurants. The 'community section', which is kindly sponsored by Jersey Heritage Patrons and Benefactors, has an area with content that will change with the seasons. It opens with images taken by photographer Christian Keenan, who was asked to capture people working in the farming industry for the People's Portrait Commission in 2008.
Within the community section is the 'Make Space' area, which will also host a changing programme of crafts and activities for visitors to enjoy. During August, they will be encouraged to take the Local Food Challenge, which involves a pledge to eat only local food for a week, and have fun decorating paper plates to either leave on display or take home with them.
Visitors to the exhibition can also discover a colourful table and chairs set designed by artist Ian Rolls and decorated by children during May half term; a seed bank of edible plants that highlights the Island's biodiversity; and recipe cards for traditional Jersey dishes, such as bean crock and vraic buns, that can be taken away for people to try at home.
'Bouan Appétit!' is open daily from 10am-5pm. Usual entry fees apply. Free to Jersey Heritage Members and children under the age of six.