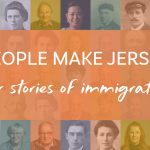 ‌
‌
A‌ NEW‌ ‌exhibition‌ ‌called‌ ‌‌'People‌ ‌Make‌ ‌Jersey‌ ‌–‌ ‌our‌ ‌stories‌ ‌of‌ ‌immigration'‌ ‌opened this week ‌Jersey‌ ‌Museum‌ ‌&‌ ‌Art‌ ‌Gallery‌,‌ ‌when‌ ‌the‌ ‌visitor‌ ‌site‌ ‌reopened‌ ‌to‌ ‌the‌ ‌public‌ ‌for‌ ‌the‌ ‌first‌ ‌time‌ ‌in‌ ‌nearly‌ ‌three‌ ‌months.‌ ‌
'People‌ ‌Make‌ ‌Jersey'‌‌ ‌was‌ ‌originally‌ ‌due‌ ‌to‌ ‌open‌ ‌at‌ ‌the‌ ‌start‌ ‌of‌ ‌the‌ ‌summer‌ ‌season‌ ‌but‌ ‌had‌ ‌to‌ ‌be‌ ‌postponed‌ ‌when‌ ‌all‌ ‌of‌ ‌Jersey‌ ‌Heritage's‌ ‌visitor‌ ‌sites‌ ‌were‌ ‌temporarily‌ ‌closed‌ ‌at‌ ‌the‌ ‌end‌ of‌ ‌March‌ ‌due‌ ‌to‌ ‌the‌ ‌Coronavirus‌ ‌pandemic.‌ ‌As‌ ‌of‌ ‌Wednesday, ‌ ‌all‌ ‌of‌ ‌the‌ ‌sites‌ ‌will‌ ‌have‌ reopened.‌ ‌
The‌ ‌new‌ ‌exhibition‌ ‌has‌ ‌been‌ ‌put‌ ‌together‌ ‌by‌ ‌Lucy‌ ‌Layton,‌ ‌Jersey‌ ‌Heritage's‌ ‌Outreach‌ ‌Curator.‌ ‌She‌ ‌said‌ ‌that‌ ‌every‌ ‌Islander‌ ‌had‌ ‌their‌ ‌own‌ ‌'Jersey‌ ‌story'‌ ‌to‌ ‌tell‌ ‌and‌ ‌the‌ ‌variety‌ ‌of‌ ‌people‌ ‌who‌ ‌make‌ ‌up‌ ‌Jersey's‌ ‌community‌ ‌was‌ ‌what‌ ‌lay‌ ‌at‌ ‌the‌ ‌heart‌ ‌of‌ ‌'‌People‌ ‌Make‌ ‌Jersey'‌.‌ ‌
'Every‌ ‌Jersey‌ ‌resident‌ ‌has‌ ‌a‌ ‌story‌ ‌of‌ ‌how‌ ‌they‌ ‌come‌ ‌to‌ ‌be‌ ‌living‌ ‌in‌ ‌the‌ ‌Island,‌ ‌whether‌ ‌their family‌ ‌came‌ ‌here‌ ‌500‌ ‌years‌ ‌ago‌ ‌or‌ ‌five‌ ‌years‌ ‌ago.‌ ‌‌'People‌ ‌Make‌ ‌Jersey'‌‌ ‌explores‌ ‌some‌ ‌of‌ ‌these‌ ‌stories‌ ‌and‌ ‌the‌ ‌ways‌ ‌in‌ ‌which‌ ‌immigration‌ ‌has‌ ‌shaped‌ ‌and‌ ‌influenced‌ ‌the‌ ‌Island‌ ‌we know‌ ‌today,'‌ ‌she‌ ‌said.‌ ‌
The‌ ‌exhibition‌ ‌begins‌ ‌with‌ ‌Jersey's‌ ‌first‌ ‌permanent‌ ‌settlers, ‌ ‌who‌ ‌arrived‌ ‌around‌ ‌7,000‌ ‌years‌ ‌ago,‌ ‌driven‌ ‌by‌ ‌a‌ ‌changing‌ ‌climate‌ ‌to‌ ‌seek‌ ‌a‌ ‌new‌ ‌and‌ ‌sheltered‌ ‌place‌ ‌where‌ ‌they‌ ‌could‌ ‌plant‌ their‌ ‌crops‌ ‌and‌ ‌raise‌ ‌their‌ ‌families.‌ ‌It‌ ‌then‌ ‌follows‌ ‌the‌ ‌waves‌ ‌of‌ ‌immigrants‌ ‌who‌ ‌have‌ ‌arrived‌ in‌ ‌Jersey‌ ‌over‌ ‌the‌ ‌centuries.‌ ‌
Lucy‌ ‌said:‌ ‌'Some‌ ‌people‌ ‌were‌ ‌fleeing‌ ‌religious‌ ‌or‌ ‌political‌ ‌persecution‌ ‌and‌ ‌they‌ ‌found‌ ‌refuge in‌ ‌the‌ ‌Island.‌ ‌Others‌ ‌were‌ ‌economic‌ ‌migrants‌ ‌seeking‌ ‌a‌ ‌better‌ ‌life‌ ‌for‌ ‌themselves‌ ‌and‌ ‌their families,‌ ‌whether‌ ‌they‌ ‌were‌ ‌retired‌ ‌Army‌ ‌officers‌ ‌in‌ ‌the‌ ‌early‌ ‌19‌th‌‌ ‌Century,‌ ‌Breton‌ ‌farmworkers‌ ‌in‌ ‌the‌ ‌late‌ ‌19‌th‌‌ Century‌ ‌or‌ ‌Madeiran‌ ‌hotel‌ ‌workers‌ ‌in‌ ‌the‌ ‌1980s.'‌ ‌ ‌
Community‌ ‌projects‌ ‌have‌ ‌played‌ ‌an‌ ‌integral‌ ‌part‌ ‌in‌ ‌the‌ ‌creation‌ ‌of‌ ‌the‌ ‌exhibition,‌ ‌including‌ ‌the‌ ‌'‌French‌ ‌Families'‌‌ ‌project,‌ ‌which‌ ‌gave‌ ‌Islanders‌ ‌the‌ ‌opportunity‌ ‌to‌ ‌explore‌ ‌their‌ ‌French heritage‌ ‌using‌ ‌records‌ ‌at‌ ‌Jersey‌ ‌Archive,‌ ‌and‌ ‌recording‌ ‌people's‌ ‌immigration‌ ‌stories‌ ‌on‌ camera‌ ‌at‌ ‌Jersey‌ ‌Library‌ ‌earlier‌ ‌this‌ ‌year.‌ ‌The‌ ‌results‌ ‌of‌ ‌both‌ ‌of‌ ‌these‌ ‌projects‌ ‌are‌ ‌part‌ ‌of‌ ‌the‌ exhibition.‌ ‌
'We‌ ‌have‌ ‌worked‌ ‌with‌ ‌lots‌ ‌of‌ ‌different‌ ‌people‌ ‌and‌ ‌through‌ ‌sharing‌ ‌their‌ ‌stories,‌ ‌we‌ ‌hope‌ ‌that we‌ ‌have‌ ‌been‌ ‌able‌ ‌to‌ ‌include‌ ‌and‌ ‌represent‌ ‌as‌ ‌many‌ ‌different‌ ‌parts‌ ‌of‌ ‌the‌ ‌community‌ ‌as possible,'‌ ‌said‌ ‌Lucy.‌ '"We‌ ‌are‌ ‌very‌ ‌grateful‌ ‌for‌ ‌the‌ ‌support‌ ‌of‌ ‌a‌ ‌number‌ ‌of‌ ‌local‌ ‌organisations‌ ‌such‌ ‌as‌ ‌the‌ ‌Polish‌ ‌Cultural‌ ‌Centre,‌ ‌St‌ ‌Thomas'‌ ‌Church‌ ‌and‌ ‌the‌ ‌Circolo‌ ‌Italiano.' ‌
Visitors‌ ‌to‌ ‌the‌ ‌exhibition‌ ‌will‌ ‌also‌ ‌have‌ ‌a‌ ‌chance‌ ‌to‌ ‌record‌ ‌their‌ ‌own‌ ‌immigration‌ ‌stories‌ ‌in‌ ‌a‌ ‌specially-designed‌ ‌video‌ ‌booth.‌ ‌ ‌
Plans‌ ‌for‌ ‌a‌ ‌programme‌ ‌of‌ ‌community-led‌ ‌activities‌ ‌and‌ ‌workshops‌ ‌as‌ ‌part‌ ‌of‌ ‌the‌ ‌exhibition‌ ‌have‌ ‌been‌ ‌put‌ ‌on‌ ‌hold‌ ‌for‌ ‌the‌ ‌time‌ ‌being‌ ‌due‌ ‌to‌ ‌official‌ ‌advice‌ ‌about‌ ‌physical‌ ‌distancing.‌ ‌
However,‌ ‌it‌ ‌is‌ ‌hoped‌ ‌that‌ ‌visitors‌ ‌will‌ ‌be‌ ‌able‌ ‌to‌ ‌enjoy‌ ‌these‌ ‌extra‌ ‌activities‌ ‌later‌ ‌in‌ ‌the‌ ‌year.‌ ‌
●People‌ ‌Make‌ ‌Jersey‌‌ ‌opened‌ ‌on‌ ‌Wednesday‌ ‌24 June‌ ‌when‌ ‌Jersey‌ ‌Museum‌ ‌&‌ ‌Art‌ ‌Gallery‌ ‌reopened‌ ‌daily‌ ‌from‌ ‌10am-5pm.‌ ‌Normal‌ ‌entry‌ ‌prices‌ ‌apply.‌ ‌Free‌ ‌to‌ ‌Jersey‌ ‌Heritage‌ ‌members‌ ‌and‌ ‌children‌ ‌under‌ ‌six.‌ ‌