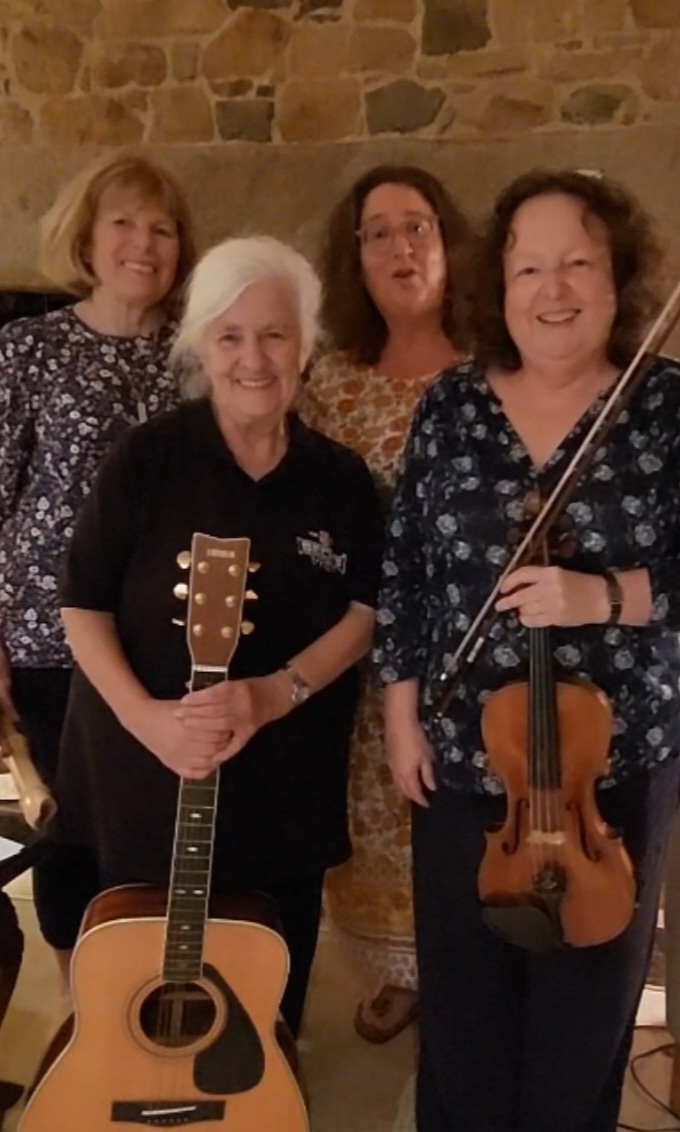 This concept has been brought back by Sonneux, a relaxed and informal (some may even say 'rustic'!) folk band comprising of vocals, bodhran, violin, guitar, recorders, whistles and occasional hammered dulcimer, St David's harp and mandolin. They play a wide selection of tunes ranging from medieval, Irish, Scottish, English traditional tunes right up to modern folk and sea shanties. They also take poems and sonnets and put them to traditional tunes and new arrangements.
Question: So, what is a 'Veil'ye'?
Answer: It is a traditional 'get together' from temps passé, where music, stories and poetry are shared in an informal setting. Originally around the kitchen table after working the fields and orchards people would gather to enjoy each other's company and hospitality. Family and farm workers would have supper and sing and tell stories around the table or fireside.
In Hamptonne Cider Barn and a new venue of Quétivel Mill, they are inviting people to join them in what they describe as: 'a rustic evening of acoustic entertainment where you can join in, take a turn or just sit back and enjoy the shenanigans! We encourage as much Jèrriais content as possible.'
Organiser Jo Thorpe said: 'At the mill we will provide a bean crock supper, in the past at The Elms we have done Cabbage loaf and cheese and of course at Hamptonne you can 'enjoy' a cup of cider. We have a pretty steady following but would love to let people know about these really wonderful community event.'
The Veil'ye will be held at Quétivel Mill on the evening of 31 March. Other events will follow throughout the summer.
For further information contact Jo at sonneux@gmail.com