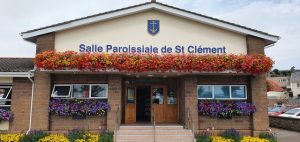 By Jeff Hathaway of 'Natural Jersey'
There was great expectation at the start of the year that Jersey would once again excel in both Jersey in Bloom and the national Britain in Bloom events. It had certainly been the case that after the successes of 2019 the various Parish teams had been busy working upon their entries during the winter months.
Although Covid-19 caused Natural Jersey to cancel 'Jersey in Bloom 2020', it became apparent that the Island's Parish Halls had nonetheless, and against all odds, gone ahead with their usual decoration. It also came to the attention of Natural Jersey that despite being forced to close for an extended period, several pubs had also made the effort to decorate their premises with floral displays. The Natural Jersey team therefore decided to judge these inspirational displays, during July, with the much valued, albeit remote, assistance of senior Royal Horticultural Society judge, Rae Beckwith.
Awards and certificates were presented to the Constables by St Lawrence Constable Dierdre Mezbourian, Chairman of the Comité des Connetables, on behalf of the natural Jersey Team – with St Clement and St. Ouen sharing the 'Best Parish Hall 2020' title. The standard was so high that every participating Parish Hall was awarded a 'Gold' certificate notwithstanding working under considerable restrictions during lockdown.
Best Jersey Pub went to The Farmers Inn, St Ouen for the second year running, while The Tipsy, St. Peter and Horse and Hound, St. Brelade were awarded Gold.
It was also felt appropriate to present the Mike Stentiford Environmental Award, which went to Ben du Feu for his much-praised pollinator project, 'Trinity Meadow'.
Natural Jersey Chairman Chris Perkins said: 'In common with many voluntary groups, "lockdown" meant that community volunteers were very restricted in what they could do in terms of planning and preparing their displays. Nevertheless, Parish Bloom Groups in particular managed to put together some outstanding floral displays, which served to bring colour into the lives of many in troubled times.
My congratulations to Parish Staff and volunteers for all their hard work and dedication.'
In late September the Natural Jersey Team also took the opportunity to present former Chairman, Mike Stentiford, with a small engraved plate as a token of appreciation for guiding the formation of the organisation which has kept 'Jersey in Bloom' alive!