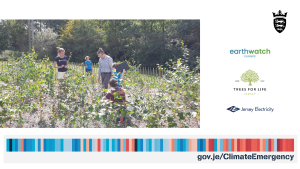 A project is underway between the Government and the charity, Earthwatch Europe, to plant the first 'Tiny Forest' in the Island in response to the climate emergency.
A Tiny Forest is made up of densely packed native trees, the size of a tennis court and is planted in urban areas where space is limited. The Earthwatch concept is designed to improve air quality, reduce noise from busy roads and create a space for people to connect with nature.
The Carbon Neutral Strategy, adopted by the States Assembly in December 2019, sets out how the Island will tackle the climate emergency and identifies the importance of activities such as tree planting in a move towa­rds absorbing carbon from the atmosphere.
The planting of the first Tiny Forest will begin at the end of November, in partnership with Jersey Electricity and Jersey Trees for Life.
Jane Burns, eco active programme manager said: 'We are delighted to be working with Earthwatch Europe along with local partners Jersey Electricity and Jersey Trees for Life. We all recognise the important role of trees in off-setting carbon emissions and contributing to biodiversity and a cleaner, healthier environment for all.
'The benefits of Tiny Forests include up to 30 times better carbon-dioxide absorption and they grow five to 10 times faster than regular forests. The initiative will provide more trees in dense areas supporting wildlife corridors and air quality making this joint project a winner on many levels."
Jersey Electricity CEO Chris Ambler said: 'Jersey Electricity has been hugely committed to sustainability and the environment for many years. Having now virtually completely de-carbonised the Island's electricity system, we are exploring all avenues to help the Island achieve its net-zero ambitions and believe that tree planting has an important role to play.
'Tiny Forests have been proved to have such a positive impact on carbon sequestration and biodiversity across the world and we are delighted to encourage and support their planting right across Jersey. We welcome the opportunity to work with Jersey Trees for Life, Earthwatch Europe, the Government of Jersey and Parishes – and we hope we can encourage others to get involved.'
Gerard Farnham Chairman of Jersey Tress for Life said: 'We have been looking forward to seeing the first planting of a Tiny Forest on the Island and we are confident that the impressive results seen elsewhere from this new way of planting woodlands can be replicated here. There are significant benefits to the environment, biodiversity and to our community all of which are in alignment with our charity's aims and objectives.'
Following planting, Earthwatch Europe will lead an ongoing programme of scientific research to monitor the benefits of Tiny Forests. The aim is for Tiny Forests to be rolled out to each Parish in the 2021/22 planting season.