Springtime treats with our cookery writer, ZOE GARNER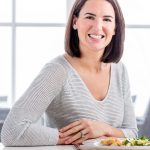 HELLO – brighter mornings and lighter evenings, that must mean one thing, spring has sprung! And what better way to pull ourselves out of the depths of our covid-dreary winter than by cooking up a storm with these sumptuous spring time foods.
Sundried Tomato & Olive Loaf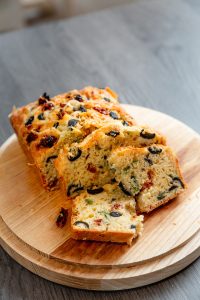 Perfect as a pre supper nibble or as a lunchtime filler.
100ml olive oil, plus extra for greasing
200g self-raising flour
a small handful of basil leaves, roughly torn
3 large beaten eggs
100ml milk
75g each pitted black olives and sundried tomatoes, roughly chopped
100g grated gruyere cheese
1. Heat oven to 190C (170C fan). Grease and line the base of a loaf tin (Approx 22x10x5cm) with baking paper. Put the flour and basil in a large bowl, season and mix together. Make a well in the centre, add the olive oil, eggs and milk and stir to combine. Beat to make a smooth batter, Approx 1min.
2. Add most of the olives, tomatoes and cheese to the batter, reserving a little to sprinkle over at the end. Pour into the tin, sprinkle over reserved ingredients, finishing with the cheese. Bake for 35-40mins, or until the loaf feels firm to touch and has formed a crust. Leave to cool in the tin for 5mins before turning out onto a wire rack.
Parmesan Chicken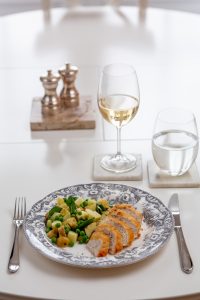 Serves 4
A spring time comfort meal yet light and fresh.
1 beaten egg white
75g parmesan, finely grated
4 chicken breast, skin removed
400g Jersey Royals, cut into small cubes
125g frozen peas
handful baby spinach
1tbsp white wine vinegar
2tsp olive oil
1 Line a baking sheet with tin foil and preheat the grill to medium. Put the egg white and parmesan onto two separate plates. Season the egg white, and then dip the chicken into the egg white, followed by the cheese. Lay the 4 coated chicken breasts on the baking sheet and grill for 10-12mins, turning if needed.
2 Boil the Jersey royals for 10mins, adding the peas for the final 3mins. Drain and add to a bowl with the spinach, vinegar and oil. Season to taste.
3 Divide the warm salad between 4 plates and serve alongside the chicken.
Spiced Rhubarb Traybake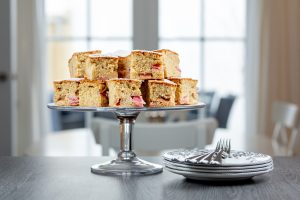 Making the most of this seasonal fruit, sweet and nice baked with a little bit of spice!
275g butter, softened, plus extra to grease
275g golden caster sugar
400g self-raising flour
11/2tsp baking powder
2tsp mixed spice
1tsp ground ginger
5 medium eggs
300g rhubarb, cut into 1in chunks
icing sugar, for decorating
1. Preheat oven to 190C (170C fan). Grease and line a 12 x 8in baking tin. Put all the ingredients, except the rhubarb, into a bowl and beat together until light and fluffy. Using a metal spoon fold in the rhubarb and spoon into the pre lined tin.
2.Bake for 40-45min until the cake feels firm to touch. Cool in the tin for 5min, then turn out and cool on a wire rack. Dust with icing sugar and serve.
Pictures by Photoreportage