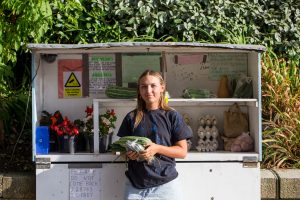 THE Jersey Local Food Challenge, which returns for its third year at the end of August, will be asking challengers to get snappy – sharing photos of their local produce meals to inspire and encourage more of us to buy and eat local.
The Coronavirus pandemic has thwarted plans organiser Bethan Watkins had for making the event bigger and better this year which included a local food fair, but she believes these circumstances have encouraged more people to embrace produce available on the island in order to support small businesses and the local economy.
The Challenge, which aims to educate people on how easy it is to make small changes to eat more sustainably, asks participants to swap as many of their food items as they can to locally grown and produced products, sharing photos and using the hashtag #jerseylocalfoodchallenge.
Bethan said: 'Recent support for the movement has been fantastic and I hope to be able to show people the many benefits that are derived from food with a lower carbon footprint. I will be sharing tips, information and inspiration to help participants create varied meals, showing them that buying locally is much more achievable than people think.'
During lockdown Bethan continued her campaign to highlight buying local produce by creating the website 'Hedge Veg' with the help of Nexus Technology as tech supporters of the movement. The mapping website provides information on where Islanders can purchase fresh and local produce from roadside stalls, farm shops and larger retail outlets.
Bethan said: 'I am looking to combine the Hedge Veg venture with the Jersey Local Food Challenge since it is all part of a larger picture of changing our shopping and eating habits. By inviting challengers to post their meals and share their journey on our social platforms we should also be able to get an idea of how many are participating and if consumers' habits are changing.'
The Jersey Local Food Challenge will run from 24 – 30 August. For more information on how you can take part visit www.jerseylocalfoodchallenge.weebly.com.