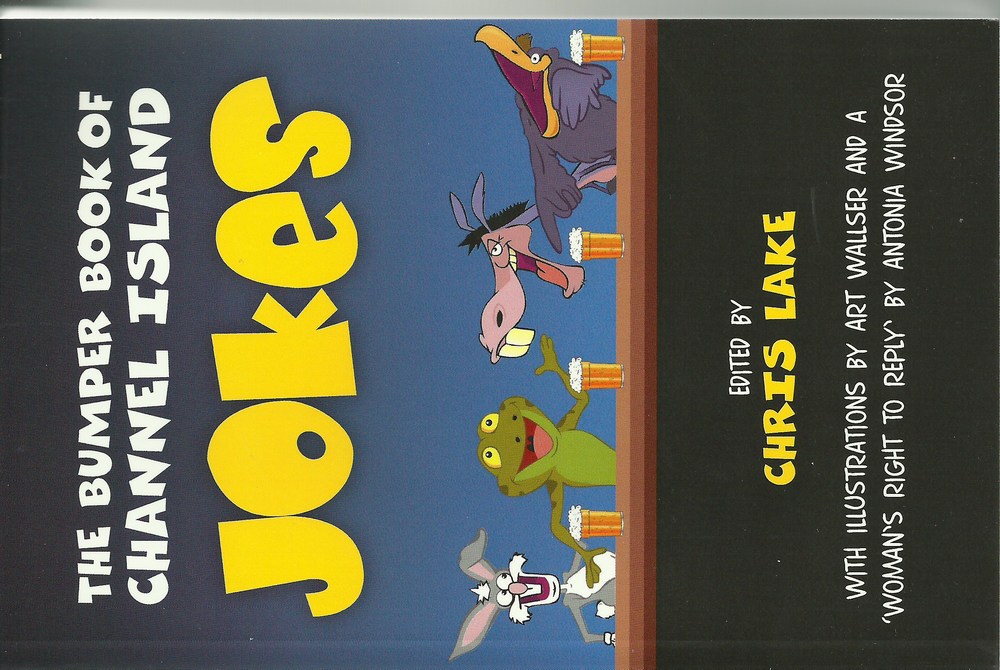 'The Bumper Book of Channel Island Jokes' –
Redberry Press; £8.50
WITH five contributors including the late Art Wallser, whose cartoons help make this more than a series of jokes about one Island set against the other, 'The Bumper Book of Channel Island Jokes' is worthy of being any Easter gift.
Some of the jokes really show the humour of Channel Islands' life and, rightly, not one but all Islanders are lampooned. For example, the three following appear right at the start of the book:
* An Alderney man went to see his doctor. 'I'm sorry, mon vier, but you have an enlarged liver.'
'No, no, no – thank you – I'm glad you told me that, because I drink an awful lot.'
*Mean? Jersey men mean?
Well, possibly …    including the poor child whose father gave him an empty box one Christmas, telling his son that it was an Action Man deserter kit.
*I remember when Guernseyman Jacques Langlois proposed to his wife. He said: 'Will you marry me?'
She replied: 'But I'm not very good looking,' to which Jacques replied: 'Don't worry. You'll be out at work all day.'
Surprisingly there are more jokes about Jersey people than any other Islander PLUS a novelty all Islanders will appreciate – Polish jokes told by the Polish community.
My favourite is:
'On their way to start a new life in the Islands the Polish couple get stopped at Customs because while she has only a small bag to carry, he has two heavy suitcases and was obviously struggling.
Also, on his wrist was what appeared to be a very expensive looking watch of a kind the Customs officer had never seen before. So Customs took him to one side and asked him about it. Proudly, the man said: 'This is a brand new watch; why, no-one else in the Islands will ever have seen the like of it before!
'Not only does it show the time in both the islands and Poland; it also tells you the phases of the moon and, every day, predicts your horoscope!
'This watch proves how rapidly Poland have embraced not just European, but world culture!'
Impressed, but still suspicious, the Customs officer said '… well, yes … but what else are you carrying in those big suitcases?'
'Nothing much. It's jus the batteries for the watch.'
Joke books abound; but as a one-off peculiarity, the 'Bumper Book of Channel Island Jokes' can't be beaten. For it is, as 'Gene the Bean' would tell you, one of a kind.