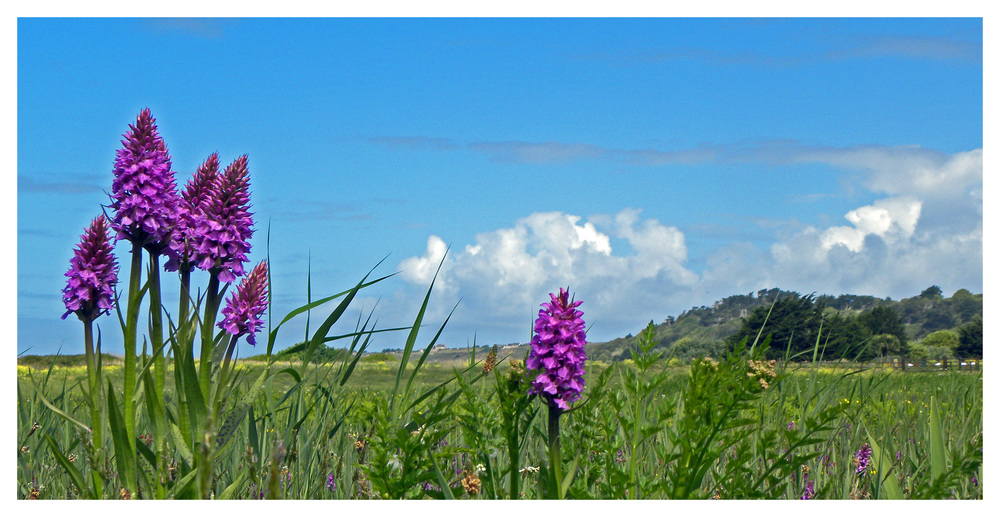 Le Noir Pré, The Trust's Orchid Field will be open to the public on Sunday 18 May, 2-4pm. National Trust staff and local botanist, Tina Hull, will be on hand to provide information on the orchids and the management of the wet meadow site. Le Noir Pré, is on Le Chemin de L'Ouziere which branches inland from the Five Mile Road, St Ouen's Bay. The orchid field will remain open until mid-June while the Jersey Orchid, Spotted Orchid and Southern Marsh Orchid are in bloom. Visitors are very welcome.
The National Trust Lands Manager, Jonny Parkes, commented: 'Over the coming weeks the meadows around St Ouen's Pond will be transformed into a swathe of pinks and purples as the orchids come into bloom once more. During May and June in excess of forty thousand orchids can be found in Le Noir Pré alone.'
This wasn't always the case as up until the 1960's this field was used as a rubbish tip with all kinds of waste ranging from fridges, cars and garden waste being dumped here. Le Noir Pré is therefore a wonderful example of what can be achieved through careful consistent conservation management. It is also an example of the incredible floral diversity that can be found in the increasingly threatened wetlands in Jersey.
.