A new book by Colonel John Blashford-Snell, CBE. Reviewed by Alasdair Crosby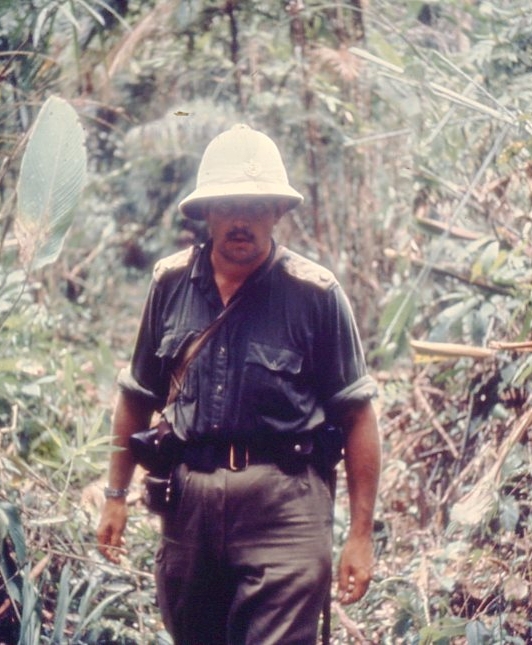 'DO you know about Atlantis?'
I think it was the first words that Colonel John Blashford-Snell, CBE (Jersey's eminent explorer) said to me, after the usual introductory pleasantries.
This conversation must have taken place in the 1990s, in the old JEP building at Five Oaks. I was employed there; Colonel Blashford-Snell (hereinafter referred to as JBS for the sake of convenience – anyway, that is how most of his friends refer to him) had just arrived and had asked to alk to a reporter. I happened to be in the newsroom at the time and was called though by 'Reception' to meet him. His question about Atlantis was a pleasantly different subject from the usual fare of local Jersey topics, and so we began to talk. He is a great raconteur, guaranteed to make any conversation riveting.
And so began almost a quarter of a century of friendly association, which still continues.
JBS has written a new book: From Utmost East to Utmost West, subtitled My Life of Exploration and Adventure. This details most of his expeditions around the world from the early Blue Nile Expedition, the Darien Gap Expedition, the River Congo Expedition through to many more recent expeditions in Africa, South America and Asia.
He seems to have travelled to most parts of the world – but they are mostly parts of the world to where most people might not want to go, or at least, not to linger. I read the book in bed during a mild flirtation with Covid, warm and comfy while drinking frequent cups of hot toddy. The comfort of my surroundings added a piquancy to the adventures about which I was reading: 18ft crocodiles which approached him with an amiable crocodilian smile, obviously interested to know if potentially this could be a dinner date; white water rafting on the Blue Nile (a sport which he invented more or less by accident); an anaconda in repose on a jungle dirt track, nudged by the vehicle in which JBS was travelling, and which then reared up, apparently – and, perhaps, understandably – quite annoyed at such a rude awakening; vampire bats who took nibbles out of him while he slept and left him covered in blood; traversing 'the road of death' over the Bolivian Andes…
Those who have followed the adventures of JBS over the past few decades will recognise some of the expeditionary adventures: such as The Cities of the Eagle Men; the Wai Wai tribe and their poisoned darts; that grand piano that was transported to the middle of the jungle; mammoth hunting in Nepal, pony trekking in Mongolia… Their stories are all recounted in this book and many more – and told by a master story-teller. Anyone who has heard him recount the story of any one of his expeditions will be able to recognise the same gripping method of delivery… JBS is a good communicator.
Of particular interest at the moment is the chapter on the Darien Gap expedition in 1972/73. Writing about it recently, JBS said: 'In 1971, an Anglo-Latin-American committee asked me to lead an expedition to drive from Anchorage in Alaska to Tierra del Fuego on South America's southern tip. In particular, to find a vehicle route through the notorious unconquered 250-mile blockage of jungle and swamps – known as the Darien Gap –and encourage the building of the last section of the great road. We were also to study the fauna, flora and people, hoping they might be protected.
'It would be uncomfortable; snakes, insects, heat, rain, jungle and swamp. Several expeditions had failed to cross the complete gap.
We finally reached the southern part of the Pan American Highway on St George's Day – 100 days after we entered the Gap. Today the area is alive with Colombian terrorists and people smugglers. I don't advise anyone to try driving through again.'
In other words, definitely not a practice area for learner drivers.
A few weeks ago, on 24 February, at the RJA&HS, John spoke at the 50th anniversary celebration of the expedition to some 250 people attending. There were present several Jersey members of the original expedition and it was an evening to remember.
It might seem easy, especially for people for whom concepts of leadership, determination against the odds and exploration mean nothing or seem derisory, to lampoon JBS as a would-be Indiana Jones or a Victorian adventurer born out of time. That would be grossly unfair. Leaving aside his interest in remote and often quite dangerous parts of the world, a profile of JBS would need to include his charitable and educational activities, such as the project he originated, Operation Drake, which later developed into Operation Raleigh, the famous travel and educational initiative for young people. More recently, he has heled promote the 'Just a Drop' charity, which supports communities around the world accessing sustainable safe water solutions. Then there is his support for disadvantaged young people in Liverpool.
Now aged 86, I asked him a few years ago if he would be cutting back on his expeditions.
'Maybe,' he admitted: 'perhaps only do two or three expeditions a year.'
A few weeks ago, before Christmas, he was back in the Bolivian jungle.
Oh – and by the way, JBS never did find Atlantis (but then no one else has, either.
*The new book, From Utmost East to Utmost West, is published by Bradt: bradttravelguides.com.
*Alternatively, JBS can be e-mailed on jbs@ses-explore.org and his office will dispatch a signed copy: cost is £14.99 + postage.
It is a good read, as I hope I have suggested above – but if you are reading it in bed while taking medication (as I was) you may get some quite vivid dreams about crocodiles, anacondas, tarantulas, vampire bats…. Be warned!