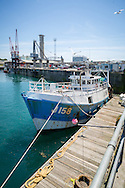 The fishery dispute with France has now flared up, with France saying the UK has failed to abide by Brexit agreements defining fishing rights off the Island. A French minister has suggested cutting power to Jersey from its underwater link and the Maison de Normandie, which also houses the French Consular services, has closed down.
The French government on Tuesday threatened to take retaliatory measures against the UK, claiming that British officials have set new rules for French fishing boats in violation of Brexit agreements. The post-Brexit tensions over shared fishing grounds have been simmering in recent weeks, with French fishermen claiming that they are being prevented from operating in British waters because of difficulties in obtaining licences.
At issue currently, are demands that vessels fishing off Jersey be equipped with monitoring devices that allow UK authorities to track ships 'where ships can and cannot go,' said Annick Girardin, France's minister for maritime policy. 'If we accept this for Jersey, it would imperil our access everywhere," she added.
Last week, Jersey's External Relations Minister, Senator Ian Gorst, met, via video link, with EU Fisheries Commissioner, Virginijus Sinkevicius, to discuss the progress being made on the Island's new post-Brexit fishing licensing scheme. Under the Trade and Cooperation Agreement (TCA), the Government of Jersey is required to issue licenses to qualifying EU vessels wanting to operate in Jersey waters and the associated legislation was recently agreed by the States Assembly. The first permits, for French boats which can demonstrate a track record of having fished in the area, have now been issued.
Following the UK's exit from the EU, an interim amnesty arrangement was agreed in January, allowing French fishing boats with a licence under the Granville Bay Agreement to continue to fish in the Island's waters while the TCA licence system was being set-up.
The amnesty period for boats with a Vessel Monitoring System (VMS) ended on 30 April. On the same day Jersey's Environment Minister issued 41 licenses to French VMS-fitted vessels. Data relating to 57 boats was submitted in the amnesty period, including 14 applications received by Jersey authorities on the last day of the amnesty.
Girardin said yesterday (Tuesday) that she has told French lawmakers that these licences had come with 'absolutely unacceptable' terms. She said Paris was prepared to retaliate, even going so far as to suggest shutting off the undersea cable that supplies energy to Jersey from Normandy.
Senator Gorst said this French reaction resulted from a misunderstanding that can be put right. He said: 'We want to heal the relationship as soon as possible, and we hope the Presidents will take the opportunity to reverse the decision of closing down the Maison de Normandie. We remain completely committed to its joint Channel Islands representative office in Caen.
'The UK-EU Trade and Cooperation Agreement (TCA) is explicit about the way licences should be issued. It says "…each Party shall grant vessels of the other Party access to fish in its waters reflecting the actual extent and nature of fishing activity that it can be demonstrated was carried out during the period…". This means Jersey must issue licences which correspond to the previous activity a vessel has carried out in Jersey waters. Jersey's government has issued licences in line with the TCA, and in line with the data submitted by the French and EU authorities.'
He added: 'We are entering a new era and it takes time for all to adjust. Jersey has consistently shown its commitment to finding a smooth transition to the new regime, most evidently by creating an interim arrangement to allow French fishermen time to submit their data.
'That commitment remains. If French fishermen or the authorities have further evidence they would like to submit, we will update the licences to reflect that evidence. There is no time-limit on submitting evidence, and we would like to offer French fishers the opportunity to submit data directly to Jersey, in case they feel information is not travelling quickly enough through the Normandy/France/EU/UK/Jersey route.'
He added that the Government of Jersey has acted on legal advice and in good faith, and remained committed to the sustainable management of Jersey waters for the benefit of this and future generations.