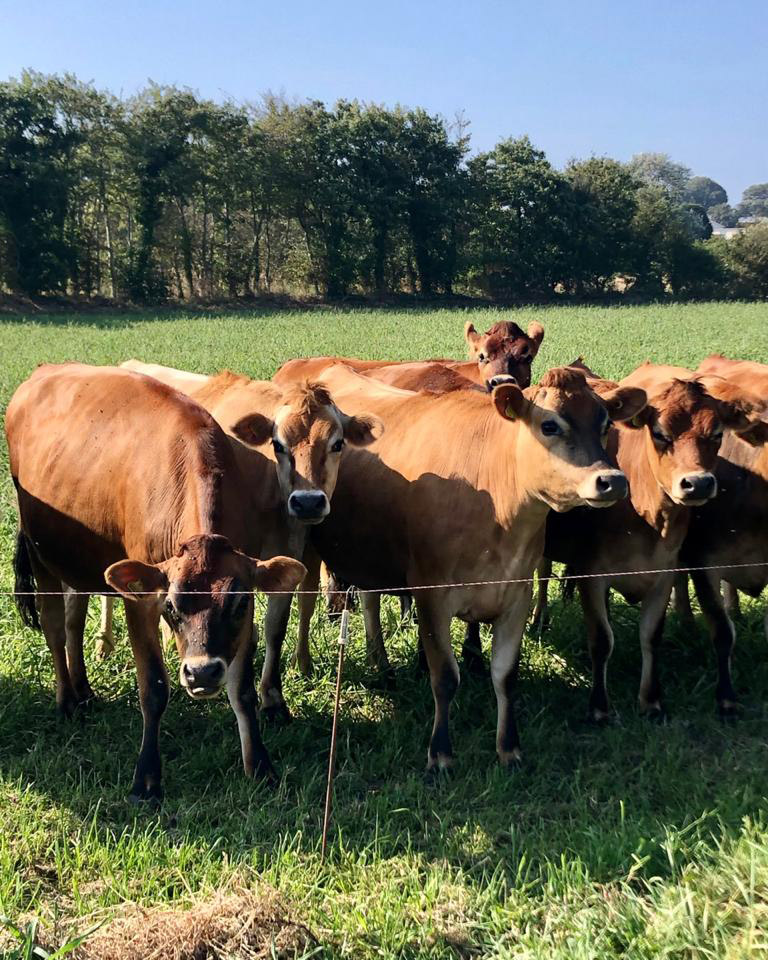 Jersey farmers are taking to social media this month to celebrate the dairy industry thanks to the UK-wide #Februdairy campaign. The initiative runs throughout February and encourages dairy producers to create and share content showcasing the 'grass to glass' journey of milk.
Every day this month, islanders can learn about dairy farming through the hashtag #Februdairy and across many local social media accounts, including Genuine Jersey (@genuinejsy), Farm Jersey (@farm_jersey), Master Farms (@masterfarmsltd), Becky Houzé at Lodge Farm (@jerseycowgirl), and Jersey Dairy (@jersey_dairy).
The campaign was launched in 2018 as a response to Veganuary, to highlight the work of dairy farming and engage the public in discussions about milk production. The social media posts draw attention to the care and effort that goes into dairy farming, the benefits of dairy production on the local environment, and how technology is enhancing farming practices.
Throughout February, Jersey Dairy will be speaking to local farmers who supply them with fresh milk. Jessica Burton, Marketing Manager, said: 'Jersey Dairy has been promoting Februdairy through social media posts as we aim to eliminate some of the myths about dairy farming and dairy products, particularly in relation to health and nutritional values, animal welfare, and the environmental impact of dairy farming.
'Our dairy farmers don't just provide the Island with high-quality fresh Jersey milk every day, but they are custodians of the countryside, and when buying local, consumers are also supporting a farming heritage and the Islands unique environment.'
To kick-start the campaign, Jersey Dairy spoke with third-generation farmer Andrew Le Gallais. In a video published on social media, Andrew explains the benefits of using slurry robots, which automatically clean cow shed floors. 'By regularly collecting the manure from the cows we are reducing methane and other greenhouse gases,' he explains. Another example is 'fit bit' style technology – all milking cows on the Island are tagged using a herd monitoring system, allowing farmers to track the health and activity of their cows.
Master Farms, a mixed dairy and vegetable farm run by the Le Maistre family, began the month by explaining what makes Jersey cows so special. In a post on Instagram, they wrote: 'The Jersey breed of cow originates from our Island and is something we as farmers are extremely proud of. The Jersey cow is famed around the world for its beauty, ease of management and ability to produce nutritious milk.
'Every Jersey cow is named and is entered into the herd book which was created back in 1866 and is the oldest such book of its kind in the world.'
The milk produced by Jersey cows enables Jersey Dairy and other local farms and businesses to create a range of products sold both locally and overseas. John Garten, CEO of Genuine Jersey and Farm Jersey, said: 'At Genuine Jersey we recognise the importance the Jersey cow plays in local farming and have numerous members who use the amazing dairy produce in their own products, from delicious cakes to award-winning salted caramel and fudge.
'We are of course very pleased that Jersey Dairy, Classic Herd and Blanc Pignon Dairy Farm are all members of the Association and Februdairy gives us a chance to shine a spotlight on them, their delicious products and the important part they play in local farming.
'We hope that all Islanders support them by buying and enjoying even more of their products during Februdairy.'