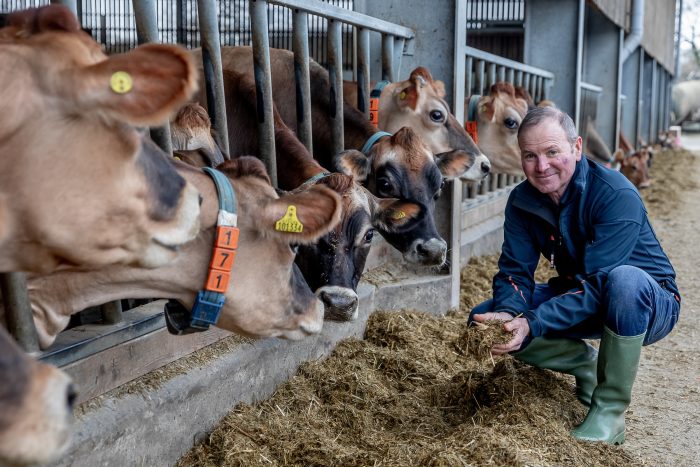 The RJA&HS will be putting on a series of events during the remainder of 2023 and 2024, aimed at members, although non-members are also welcome.
The first event:
Wednesday 18 October, 12-1.30pm
Trinity Manor – Dairy Farm Tour
A walking tour of Trinity Manor Dairy Farm with Farm Manager, Jim Carter.
Find out more about what happens on a dairy farm: learn what cows eat, what they sleep on, how they are milked and everything in between.
Please e-mail louise@royaljersey.co.uk for more information and to book.
Spaces are limited and will be allocated on a first come, first served basis. There will be a waiting list for a future tour, should this become oversubscribed.
There is no cost to members, and non-members will be charged £5 per person.
Please ensure you dress appropriately for the weather and wear sturdy footwear (boot covers will be provided).
Please note that this will be a walking tour around a working farm, so participants will need to be physically mobile. If this presents issues for anyone who wishes to attend, please let Louise know.
Watch this space for future events!
An evening with Andy Gilson
Author of newly released book: 'The German Occupation in Jersey: Agriculture and Survival in a Time of War' which is now available from the RJA&HS office.
What was the relationship between Jersey farmers and the German occupying authorities? The author of a new and important book on this subject, retired Head of History at Victoria College, Andy Gilson, will be talking about the newly published book.
In this book local historian Andrew Gilson examines the relationship between the German military government and the civilian government and civil service on Jersey, and how they had to work together to ensure the Island's survival through its farming industry.
The book is published by Amberley Publishing.
544 pages
978-1398118416
£24.99
Further information from the author at aggilson99@gmail.com
Orchid Foundation Tour
A tour of the unique centre dedicated to orchids in Trinity.