Earlier this year, Philippa Evans-Bevan travelled to Colombia in South America, as part of a delegation focusing on agricultural enterprises and opportunities.
Officially known as the Republic of Colombia, this diverse Country has remarkable borders. The Caribbean Sea to the north, Venezuela to the east, Brazil to the southeast, Ecuador and Peru to the south, the Pacific Ocean to the west and Panama to the northwest. Covering 440,831 sq. miles Colombia has a population of 50 million.
I landed in the capital city of Bogota, in central Colombia, a day ahead of my party and took the opportunity to explore the streets of this fascinating city and to gain a flavour of what was to come.
Colombia is a vibrant, friendly country with a unique beat. Always drawn to streets full of melody and rhythm, it didn't take me long to find the chaotic multi talented musicians who with their drums, guitars, bassoons, bells and whistles and energetic choreography create a colorful razzmatazz. .
Colombia's cultural heritage reflects many influences. Various Amerindian civilizations, European settlement, enslaved Africans, as well as immigration from Europe and the Middle East. Spanish is the nation's official language (although I was told over 70 languages are spoken)
An important backdrop is of course the political upheaval that Colombia has endured. Beginning in the 1960s, the country has suffered from armed conflict and political violence, both of which escalated in the 1990s.
Fortunately, since 2005, there has been much improvement in security, stability and rule of law. I gained an impression that in spite of Colombia's troubled recent past, and no doubt because of it, this is a country that is dedicating much effort and resources to making up for lost time.
As well as their natural resources, the young people of Colombia are a formidable credit to their country, well educated and enthusiastic to take the country forward to unprecedented economic growth and development.
Our first meeting with the Ministry of Agriculture in the 'Procolombia' headquarters rubber stamped my sense of fresh national ownership by a new generation. One after another, young men and women speaking perfect English, made excellent presentations on agricultural production and infrastructure and specific enterprises from coffee, to cattle, flowers, pineapples, blueberries, avocados, lemons and more.
The Procolombia brand is officially and undoubtedly welcoming. Now in its 30th year of promoting Colombian exports and fostering sustainable development, agribusiness is a priority. The red carpet support includes help to identify projects, add value and assistance and to provide a directory of services. All with collaboration from trade, tourism and tax authorities, who offer generous deductions and incentives?
There is also huge scope for agri-tourism. Colombia has the second-highest level of biodiversity in the world after Costa Rica and Colombian territory encompasses Amazon rainforest, highlands, grasslands and deserts. (It is the only country in South America with coastlines and islands along both the Atlantic and Pacific oceans).
Our travels the length and breath of this stunning and diverse country bore witness to this. From rolling cattle country populated by Normandy cattle to the noisiest coffee plantation, where the owner's talk was hard to hear owing to the deafening sound of birds, we were immersed in the most beautiful and varied natural habitats.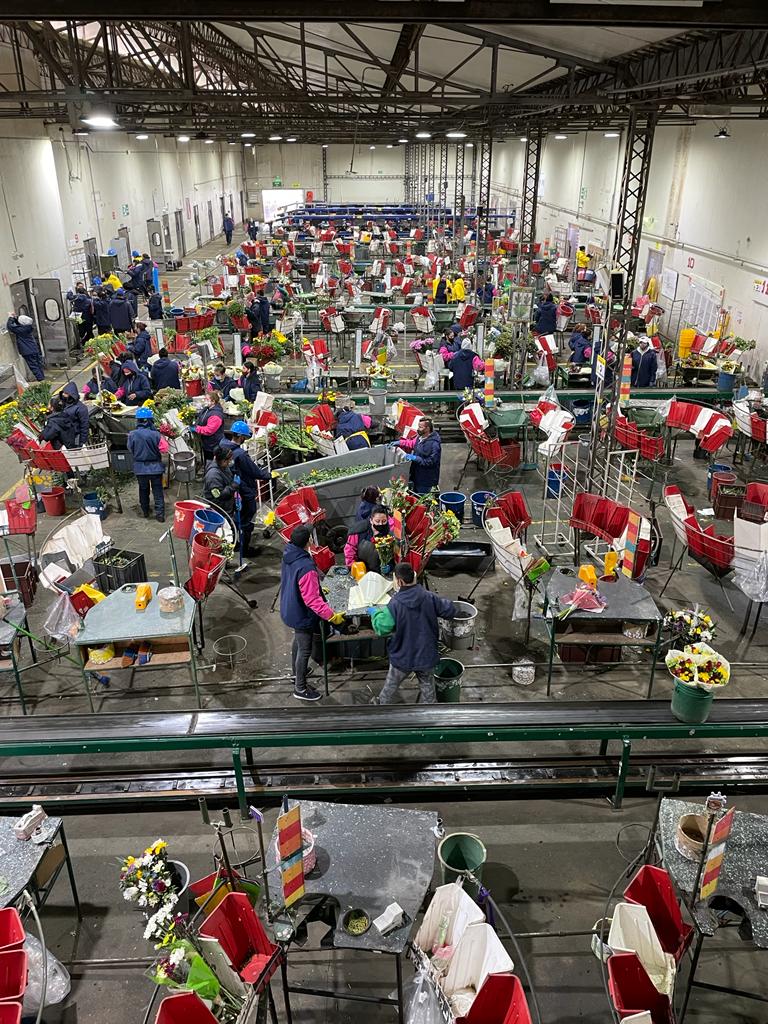 The rich soils and tropical climate lend themselves to a wide range of fruit and flower growing and flowers are Colombia's 4th largest export. Roses, chrysanthemums and carnations are the top three and are a handpicked and transferred to sophisticated packing complexes supporting thousands of jobs.  Stunning and colourful bouquets are then dispatched to the USA and Europe in the main.
Colombia is a determined country and takes pride in being highly committed to the sustainability development goals. 30% of Colombia's land is protected from damaging impacts to water and biodiversity in particular.
A cosmos of creativity and innovation, in my opinion Colombia has the potential to grow a sound economy, sustain its people with a healthy nutritious diet and also to be a strong player on the world stage of agriculture. From all I saw, Colombia has the assets, the attitude, the ability and the ambition to succeed.