RURAL magazine's environment writer, Caroline Spencer, relates in her recent book, 'AHIMSA', why she went vegan last year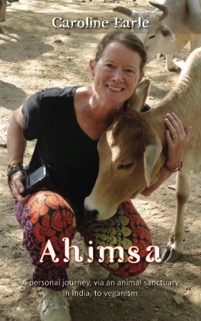 WE are being bombarded with so much information about the state of planet Earth that it is easy to be overwhelmed. It can be difficult to know where to start. Can anyone really make a difference?
Well, as the saying goes, we need a lot of people making small changes, not just one or two making the 100% drastic adjustment.
Until early 2018 I was a meat eater. I was perfectly happy to have cows milk in my tea and on my cereal and to bake with eggs. So, what changed? It was, quite literally, a journey. Lucky enough to quit my job and escape for six months in Asia, I headed off from Bangkok through six countries, including three months in India, from the southern tip all the way up to the mountainous north.
Asia, generally speaking, is not known for its animal welfare. I saw dogs on a spit roast on the back streets of old Hanoi and I saw tortoise on the menu. I mentioned it on Facebook and people reacted probably much like you are now.
My sister, a vegan for more than 25 years, commented: 'What's the difference?'
What is the difference between that dog and, say, a hog roast in the summer in Jersey? What is the difference between a tortoise and a crab, or a lobster?
With more time and energy to reflect, I was able to think about it. But it was one thing to go vegetarian and quite another to go vegan and remove dairy and eggs from my diet.
Now, I would like to think that the Jersey dairy industry is as near 'best practice' as possible and I fully accept that dairy farmers love and care for their herds. However, without using any emotional arguments whatsoever, I quote from the Government of Jersey's Rural Economy Strategy 2017-2021: 'The knacker's service operates five days per week, providing a slaughter and disposal service for livestock. Livestock are usually slaughtered on the farm of origin and carcasses are transported to the knacker's yard for incineration. Operation on a Saturday is intended to ensure that male calves born over the weekend are dispatched within 36 hours of birth. During 2016, the knacker's service disposed of an average of 40 calves, five cows, three sheep, one pig and one horse per week.
'The incinerator in 2016 was also used to dispose of 142 tonnes of abattoir waste, 16 tonnes of spent hens and any livestock killed by the knacker's service, as well as any carcasses found washed up on Jersey's shore (e.g dolphins, seals, etc).'
Forty calves a week sent to the slaughterhouse, just for being born male. Personally, I don't want that to happen just so that I can drink cows milk, particularly when there are so many good alternatives available.
If you are ok with those facts, then fine, but there will be people who are not aware of this. It's all about informed decisions.
I feel sure that dairy farmers might want to fight back with 'expert' opinion, but I am writing as an average consumer, a mother, now grandmother, who is exceptionally proud that my grand-daughter is being brought up 95% vegan.
Because I started feeling so passionate about it, and because I was angry with myself for not joining the dots sooner, I felt I should speak up and be a small part of the growing wave of awareness. The book Ahimsa (a Hindu and Buddhist word meaning respect for all living things and avoidance of violence towards others) is the result of that, but it's not a book that is aimed only at vegans.
It's very much a personal journey that will appeal to anyone who likes travel, India, animals, dogs, (it includes wonky donkeys and a water buffalo called Flower), or anyone who has ever wished they weren't sitting at their desk and wants to give it all up for a bit of a gap year.
*Ahimsa, published by Grosvenor House Publishing under the pen name Caroline Earle, is out now on Amazon and as an e-Book on all the usual platforms, including Amazon Kindle