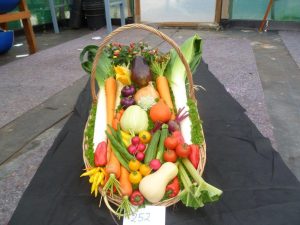 Inmates at HMP La Moye took part in the Autumn Fruit, Flower, and Vegetable Show at the RJA&HS earlier this month and broke five records in the heaviest and longest fruit and vegetable classes.
As with the RJA&HS Summer Flower and Produce Show, competitors were judged virtually in order to minimise the risk of COVID-19 transmission.
Prisoners won ten categories in the show for growing a variety of vegetables which were then judged virtually due to the COVID-19 pandemic.
Competing in these competitions contributes to the rehabilitation of prisoners through learning skills in horticulture. The growing of vegetables and fruits provides a small but varied range of food that can be used in the Prison kitchen feeding both prisoners and staff.
The States of Jersey Prison Service were awarded for their efforts in ten classes:
Heaviest Beetroot
Heaviest Cabbage
Heaviest Marrow
Heaviest Cucumber
Longest Parsnip
The long standing records that were broken this Autumn are:
Heaviest carrot weighing 9lbs 13oz
Heaviest parsnip weighing 8lbs 14.8oz
Longest radish measuring164.5 inches
Longest carrot measuring 159.8 inches
Longest beetroot measuring 74.8 inches
The head of Reducing Reoffending at the States of Jersey Prison Service, Lesley Harrison, said: ;Education and vocational training are just one pathway for reducing re-offending by opening up employment opportunities.
'To have their hard work and commitment recognised though competition work with the RJA&HS is a great motivator for those prisoners who are part of the rehabilitation programme and all staff at the prison who support them.'