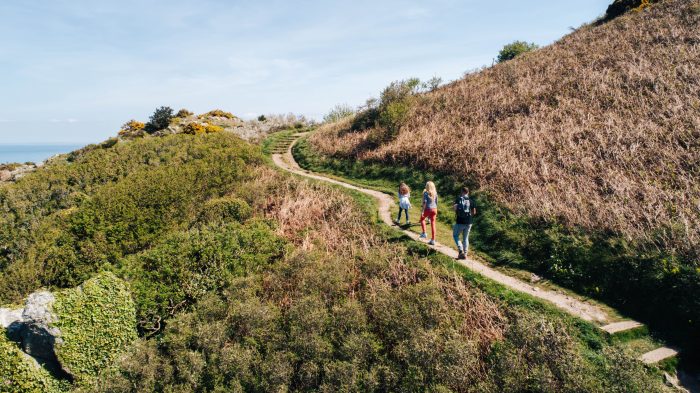 Lace up and get active, with 'Walk in the Park' this May
Prepare to stretch your legs and put a spring in your step with the return of Walk in the Park. The Jersey National Park invites you to get active and immerse yourself in the great outdoors during May, National Walking Month.
After last year's success, the Jersey National Park is pleased to announce the return of Walk in the Park for its third edition. This year, the programme has an emphasis on getting active in nature.
Islanders and tourists alike are invited to explore the breathtaking beauty of the landscapes that sit within the boundaries of the Jersey National Park. Through a series of expert-guided walks, learn all about the Park's rich history, its diverse ecology and unique geology.
With an array of over 20 walks to choose from, there's something for everyone. Walks are being provided from a selection of the Jersey National Park's partners including; Jersey Uncovered, Wild Adventures, Birding Tours Jersey, Jersey Government's Environment Department, Jersey Sport, Boarder and Binney, Jersey Heritage and the National Trust for Jersey.
Each walk is designed to engage participants in some physical activity whilst showcasing different aspects of the Park, from wildlife encounters to fascinating historical and agricultural insights.
Families, groups of friends, and individuals can select from a wide range of walks catering to various interests. Guided walks are available to book from Saturday 22 April by going to: jerseynationalpark.com. Spaces are £5 to attend, and free for under 18's. Walks provided by Move More Jersey are also free, and made available all year around. Go to movemore.je/walk-more/ for more information.
For those unable to join the guided walks, 16 self-guided routes and a series of audio guides are available, ensuring everyone can leisurely explore and enjoy the various locations in the Jersey National Park at their own pace.
Honorary Chair of the Jersey National Park, Jim Hopley, MBE, said: 'This year, Walk in the Park has a revitalising focus, encouraging visitors to get active while discovering the Park's diverse landscapes. Our programme of walks aims to inspire Islanders and tourists alike to get active in the outdoors, appreciate the Park's natural beauty and learn something new about what it has to offer. We are working with a range of fantastic partners on our programme, which includes environmentally focused walks, talks on sustainable farming, and ample opportunities to see the Park's incredible flora and fauna."
Mr. Hopley continued: 'The Jersey National Park has over 50 miles of paths that are available to the public to use. These paths take visitors to some of the Island's most beautiful, remote and yet environmentally sensitive wild areas. And many of these paths cross private land thanks to the goodwill of landowners. It is important to remind the public that whilst out enjoying the Park to stay on marked paths, and keep distance from wildlife.'
Jersey Sport's CEO, Catriona McAllister, said: 'Walk in the Park is the perfect opportunity to combine physical activity and the great outdoors. This campaign encourages people of all ages and abilities to engage in healthy exercise while exploring the stunning landscapes of the Jersey National Park.'
She added: 'We're proud to support this initiative, as it aligns with our mission to inspire and enable everyone on the Island to lead active, healthy lives while appreciating the natural beauty it has to offer.'
To take part in Walk in the Park, or to learn more, visit: jerseynationalpark.com/walkinthepark
Whilst getting your steps up, share your favourite moments by posting photos on Facebook or Instagram and tagging @JerseyNationalPark #JerseyNationalPark #MoveMoreJersey #WalkInThePark
The Jersey National Park was sparked by a peaceful demonstration organised by The National Trust for Jersey in 2009 objecting to the volume of development taking place on the Island. Two years after the protest, The Jersey National Park was endorsed by the States of Jersey and now covers 2,145 hectares with strict development rules in place.
The Jersey National Park comprises:

• An active network of conservation, land-use and community groups
• Over eight square miles of protected habitat including woodland, wetland, grassland, dune, bracken and marine
• Four offshore reefs and four maritime headlands
• 30 miles of coastline, including 16 miles of undulating cliff paths
• 23 ecological sites and 18 geological sites of special scientific interest
• Over half of Jersey's WW2 historical sites as well as one of the last Neanderthal sites in North-Western Europe.


A map of the Park can be found at jerseynationalpark.com/wheres-park