A personal view by Philippa Evans Bevan, a regular contributor to RURAL magazine, who writes from her often used and much beloved home on the side of Lake Como in northern Italy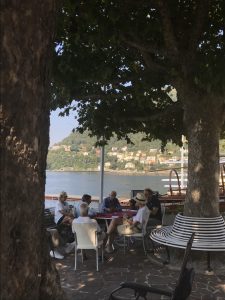 IN the spring edition of RURAL, I was due to write an article focusing on all things lovely from Lombardy. Little did I realise then how quickly the gathering storm of Covid 19 would soon throw a cloak of fear and sadness over my treasured province. So, of course, my article did not go ahead.
Six months on, my 'letter from Lombardy' is a reflection on the situation as it has unfolded and how Lombardy is healing.
I was in Como in late February 2020. The lake air was fresh and beginning to shake off the winter chill. Everywhere the proprietors of the many havens of hospitality and their enthusiastic staff were busy preparing for the snowmelt that heralds the first flow of visitors to this enchanting place.
Spring in Como always has a fresh and happy atmosphere brimming with anticipation. But this year there was an eerie sense of the strange impending storm, delivered by news bulletins of COVID outbreaks in small towns in southern Lombardy. Daily it edged north.
I took a train to Zurich. It was possibly one of the last trains before the border was closed and there was hardly another soul on it.
Switzerland seemed to be glancing over its shoulder nervously in snowy conditions and taking forensic note. Recently I read a quote by a professor of bio-ethics at ETH Zurich, the Swiss Institute of Technology renowned as a world leader in natural sciences: 'We were confronted with something we had no clue about, we needed to buy time and figure out what was happening.'
Switzerland took an early decision to shut down public life, days after my departure for Heathrow.
On arrival in London, there was a similar uneasiness, muddled with an element of denial. The mood seemed to be: 'We are an island nation, with new shiny Brexit borders. Keep calm and carry on.' This weird detached confidence turned out to be only three weeks away from being smashed to pieces.
Life in lockdown is a unique and strange experience, very sad indeed for so many who have struggled in isolation, suffered the illness and for the all too many who have lost loved ones, friends and colleagues.
There were a few silver linings to lockdown and these have been widely reported. For me it was spending ten weeks with my grown-up sons who normally work away from home. An ambitious garden project was the inspiration of my son, Patrick, who along with many of us started to think about home produce and food security in a more individual and practical way.
Digging in and forming productive ruts to feed body and soul and discovering that abundant vegetable production is deeply satisfying and sleep inducing. But, as soon circumstances permitted, I left my small field of plenty in capable hands; recently I returned to Como.
Still beautiful, bathed in September sunshine – but now Como is a more subdued city cautiously pushing against the door of normality.
Strict protocols hold sway and mask wearing is mandatory. Gloves must be worn in supermarkets and temperature testing is widespread and hand in hand with almost every door you open. Every teacher has been tested for Covid before schools resume.
'Covid Control' is the new order, as the army and considerable police presence signifies. An important border post, Como has always been heavily policed but this threat is unseen and sinister. The carnage it caused this spring in Bergamo and Lombardy has been all too real and no one is taking any chances.
There is a sense of Como being under gentle occupation to which there is no resistance, but step-by-step, passo dopo passo, Como is cracking it. The community is unilateral and impressive in its approach and solidarity.
Taking its time, doing things with discipline in its own way, Lake Como is smiling and welcoming visitors again, with pleasure and pride. It is no longer in a straightjacket but is a Bienvenuti with boundaries to re establish the lives they love and Italian flair with care.
In Como, the Italian outdoor population is enjoying its parks and walks; the veteran rowers at the Como Canotieri Rowing club are back playing cards in the shade of the plane trees, while the juniors set out across the lake to train again. Como is coming home.