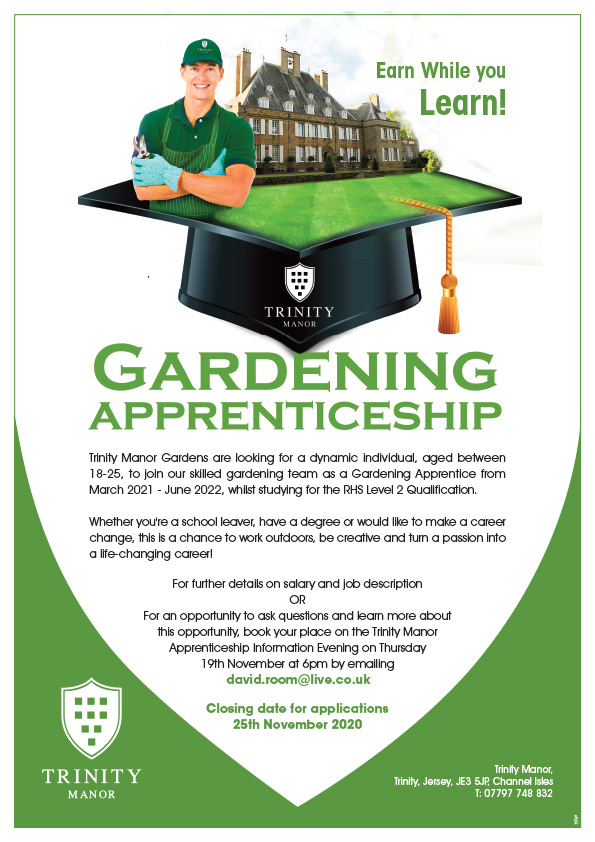 ]]By head of education and development at the RJA&HS, Jess McGovern
A unique opportunity has arisen for anyone aged between 18 and 25, who may be interested in a career in horticulture: an apprenticeship in the gardens of Trinity Manor, being trained by and working with the gardening team headed by David Room and Olly Keylock (Head Gardener and Deputy Head Gardener of Trinity Manor Estate).
The apprenticeship will run from March 2021 until June 2022.
In my education and development role at the RJA&HS, I have had many chats and meetings regarding raising the profile of 'Horticulture' and 'Agriculture' in Jersey and I have discussed at length and with other key people, the importance of creating essential pathways into both these industries.
The meetings have raised concern about the lack of opportunities available to young people and they have also highlighted the immense passion from key people working in the industry who are keen to offer their time and knowledge to revert this trend. At our Cultivate Young Minds event 2019, when asked the question, 'Would you like to know more about Agriculture and Horticulture?' 88% of the 80 Cultivate Student Ambassadors said 'YES'.
I am therefore very excited to announce this new Trinity Manor Gardening Apprenticeship.
I would consider this more than just an 'apprenticeship' but an essential positive step in opening the door to our young people to consider a career in Horticulture. The successful candidate will also study for the RHS Level 2 Qualification during their apprenticeship.
Even more exciting than this, is the 'classroom' in which the 'apprentice' gets to learn – I have had the privilege of walking around Trinity Manor Estate gardens and it is the most magical and awe inspiring place in which to learn to be a gardener.
Whether you are a school leaver, have a degree or would like to make a career change, this is a chance to work outdoors, be creative and turn a passion into a life-changing career!
This really is a unique opportunity.
For an opportunity to ask questions and learn more about this opportunity, book your place on the 'Trinity Manor Apprenticeship Information Evening' on Thursday 19 November at 6pm by emailing david.room@live.co.uk
The gardening team at Trinity Manor Estate feel passionately about the importance of inspiring and educating young minds in the horticultural industry and believe this aligns with the vision of our Cultivate Young Mind initiative and so they have asked for me to be involved in the launch and the selection process of the Trinity Manor Gardening Apprenticeship as well as act as an educational mentor to the successful candidate.
Closing date for applications 25th November 2020
Please find thr link link to further details about the role: