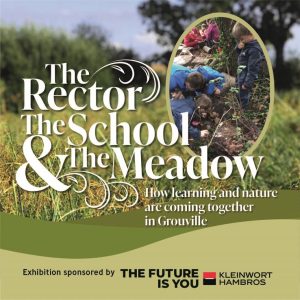 A meadow has been gifted for the children of Grouville School and other youth groups like Scouts and Guides, to allow them to become involved in conservation projects and to gain all the benefits of learning in nature.
The meadow, which is adjacent to the school, was the property of the McGugan family; Arthur McGugan, a much loved and respected former teacher, died three years ago and a family trust was created to find a beneficial use for the field, given the late Mr McGugan's lifelong interest in education.
Trustee Dr Maggie Esson said: 'In reality, the restoration of the meadow meant a battle with nettles and bindweed, not to mention a pond clogged up with bulrushes. Our plans include making the meadow accessible to all, including a wheelchair-friendly path, which had just been started.'
An exhibition, titled 'The Rector, the School and the Meadow' explains how learning and nature are coming together in Grouville; it opens on Monday 19 October from 10.30 onwards at Grouville School. It celebrates all the above plans!
The exhibition is sponsored by Kleinwort Hambros whose staff are supporting the restoration of the meadow through their CSR scheme.
It will be opened by Grouville Constable John Le Maistre and will be followed by a tour of Le Pré Arthur, the site of the wet meadow restoration project. He said: 'We're so grateful to the McGugan family for donating the meadow to a newly formed charitable trust that allows Grouville School children and other youth groups to enjoy and learn from an environmentally managed meadow in the parish.'
One of the schoolchildren involved in the project, Nathan (10) said: 'It's a chance to breathe and be outside with no noise and lights'; Fern (7) said: 'It makes me feel happy feeling the air, smelling the smells and hearing the sounds of nature.'