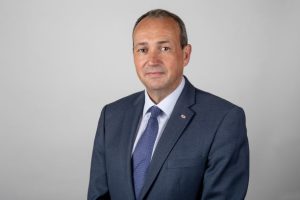 Opening address by Senator LYNDON FARNHAM
The conference took place at La Mare on Thursday November. Senator Farnham was due to deliver the opening address, but at the last moment was unable to attend due to pressure of States business. His address was read by Assistant Economy director John Vautier:
Ladies and Gentlemen,
It is a pleasure to welcome you all to the tenth edition of the Jersey Farming Conference.
I 'm not quite sure where the last twelve months have gone, but looking back I note that I began my address at the ninth conference with the following words:
'This conference is an opportunity to discuss and update our vision for Jersey's rural economy. A time for us to acknowledge the local and international challenges faced by rural businesses; address the issues surrounding the sustainable use of the Island's natural resources and empower all stakeholders and allow them to comment and exchange ideas and information in an open forum.'
'Local and international challenges' …. when I stood before you last year and used this phase, I don't think many of us would … or could … have predicted the scale of the challenges which we have faced over recent months.
The shadow of Covid-19 has dominated our lives with far reaching social and economic implications. The Brexit process, which has yet to be concluded, has added further uncertainty to a situation which was already volatile and subject to constant review.
These circumstances have required our community and government to take unprecedented measures … in terms of managing the health of our population and in ensuring we maintain critical infrastructure and support the continuation of a robust and diverse economy.
Against this backdrop, we have continued to work on the transformation of our public services, with the 'One Government' initiative, and to deliver on our objectives … which are set out in the Common Strategic Policy and Government Plan.
It's been a rather busy time!
As part of the OneGov process, we are establishing a new Economy Department. This will bring together a team of people and the resources required to deliver on government economic strategies and policies in all areas … including financial services, digital economy and the local economy … which includes tourism, hospitality, retail, culture, arts, heritage, and rural and marine sectors.
Farming and fishing are a vital part of the Island's DNA. Rest assured we will continue to make every effort to ensure they continue as an essential element of our economy and Island life.
The rural sector has stepped up to the recent challenges and has continued to operate within an ever-changing environment … and I am aware this has not been easy. Thank you for your efforts. Thank you for adapting to the new realities and thank you for continuing to operate in a responsible manner, having regard for the welfare of your staff and the general public.
At this time, we should not forget that agriculture is an essential activity … and we all rely on the food farmers produce to sustain us.
We must also recognise that our food system is complex and is fully integrated with neighbouring jurisdictions. It is a system which relies on a delicate balance between production of food for local consumption as well as activity which seeks to achieve economies of scale and efficiencies through opportunities which can only to be found in the export market.
Economic sustainability of the sector can only be achieved by maintaining this balance … and this has to be an overarching principle of our Rural Economy Strategy … a strategy which must be delivered in a collaborative manner, as a partnership between community, government and industry. Working together has never been more important than it is now.
To this end, I am pleased that government had already made the commitment to increase the value of the rural economy support budget in 2020, and indeed, has approved plans to make further increases over the next three years.
In 2020, we have increased the base rate payments under the rural support scheme and introduced new funding to the rural initiative scheme to assist business invest in projects designed to improve productivity and economic sustainability.
The current Rural Economy Strategy runs until the end of next year, and work has already begun on a new strategy, which will be in place for January 2022. This will be a process of evolution rather than revolution, as we seek to maintain the best of what we already have, as well as enable Island business to take advantage of new opportunities.
We stand ready to work with industry to embrace and adopt new technology and improve productivity across all sectors. This includes the significant progress already made on the establishment of a hemp and medicinal cannabis industry, which will bring significant diversification opportunities to the rural sector.
The successful adoption of the LEAF Marque Standard by all land dependent businesses will remain a central focus and will enable us to demonstrate and quantify the significant contribution made by farmers in maintaining, protecting and improving our environment.
Our countryside is a special place. It has a unique character and is highly valued by the community. Our wellbeing is directly linked to the quality of our landscape … and it is farmers who provide the primary care for this vital Island asset.
Our new Economy department will lead on the development of the revised strategy and, with your help, will ensure we have an evidence-based approach to policy making to put us in the best position for the next five years. You will have the opportunity to contribute to this process over the coming months – please do take this opportunity to make your views known.
I would like to thank John Garton of Farm Jersey for organising this event again this year … especially in the challenging circumstances we find ourselves in. Thank you, also, to all those who are speaking, whether in person or online, something we have become increasingly used to in recent months, we appreciate your time and effort.
This conference remains an important event in our farming calendar. An opportunity to exchange and consider new ideas and find new ways of doing things. An opportunity to consider how we can adapt and change in response to the local and international challenges which we face. To recognise that we are stronger when we face these challenges together and to work collectively to ensure that farming industry remains a viable and sustainable activity at the centre of Island life.
Thank you.