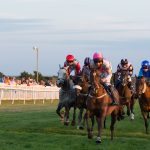 Racing at The CoinShares Racecourse at Les Landes will go ahead on Sunday, but the meeting will be closed to all except Jersey Race Club members. There will be no on-line sale of tickets and walk-up racegoers will be turned away at the gate.
This Sunday's fixture features the Channel Islands Champion Hurdle, one of the season's annual highlights, and will feature runners from the United Kingdom, but the only non-members permitted to access the course will be the horses' owners, trainers and those employed in the welfare of the horses together with racecourse staff.
The measure comes in response to the threat that the Bailiff's permission to continue racing at Les Landes will be withdrawn unless certain new provisions are implemented. The Jersey Race Club has been operating under restrictions for the three fixtures so far this year, but following a visit at the last meeting by a senior official from the Bailiff's office, accompanied by police officers, the Club was told it must introduce rigorous additional measures or racing would not be allowed to take place.
The Race Club is willing to comply, but such are the new requirements that they will take time to put in place and there was insufficient notice to put all the new requirements in place by Sunday. So, the meeting will go ahead behind closed doors for members only.
It's known champion jump jockey Brian Hughes is coming to ride in the Champion Hurdle and bringing his family for a holiday as is Charlie Longsdon, trainer of the favourite Jamacho. Bunny Roberts, Race Club President said, "It's important that we go ahead. Leading trainers, jockeys and owners are travelling to Jersey for the racing which will be the centrepiece of their holiday and it would be damaging to Jersey to disappoint them."
Local racegoers and visitors will be disappointed not to be able to see the action as Bunny Roberts recognises. 'I must apologise on behalf of the Race Club to all those who enjoy a trip to the races and who will be disappointed, but under the circumstance we have no alternative to holding a closed meeting.'