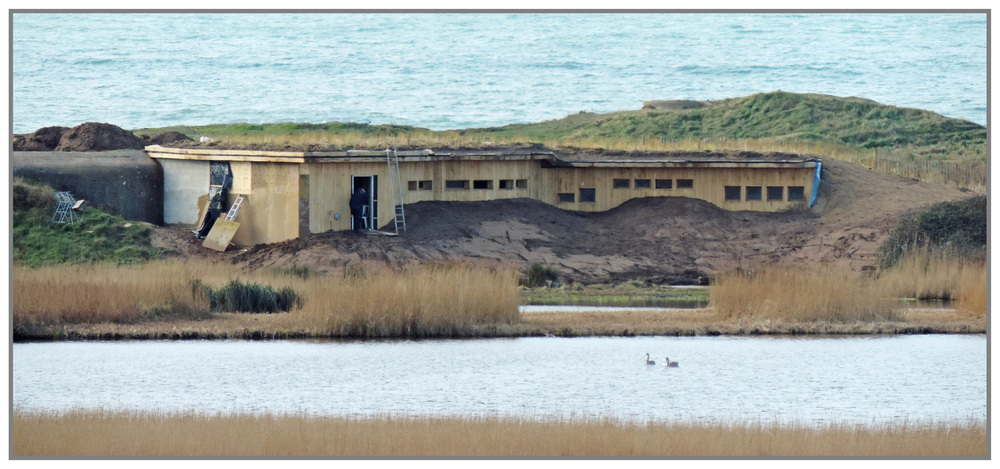 Opening Day 2nd February 2014
THE trust invites the Jersey public to the opening of its its exciting and brand new bird hide and wetland interpretation centre on 2 February.
Perfectly situated overlooking St Ouen's Pond, the Wetland Centre gives visitors an opportunity to not only view the interesting and diverse birdlife found at La Mare au Seigneur but to learn about the reserves significance to wildlife and about the rich history of the area safeguarded by the National Trust for Jersey since 1975.
The new centre is accessed by a tunnel, which takes visitors through a dune mound and opens out to give amazing panoramic views of the reed bed and pond and a unique perspective for budding birdwatchers without disturbing the waders and waterfowl from doing what they do.
The Wetland Centre also provides:
*A visitor controlled pan, tilt , zoom mounted camera to allow an interactive and entirely new perspective to the pond's feathered visitors and residents
*Reed bed cam to give visitors a previously unseen insight into the reed's secretive occupants such as Marsh Harrier's nests and the elusive Bittern
*Modern and interactive interpretation panels to educate and inform visitors which include beautiful bird identification panels painted by local artist Anna Le Moine Gray
*A converted German personnel bunker to be used for an educational space and facility
*A green roof that provides habitat for plants small mammals, amphibians and reptiles like the Green Lizard
Admission: Free
Getting there: Bus route 12a. Bus stop code – 2398 (Big Vern's diner/St Ouen's pond). Public car park on opposite side of the road.
Opening hours: 9am to 5pm
The Trust invites you to the official opening of the new Wetland Centre. Activities happening throughout the day providing an opportunity for all the family to have a fun day out discovering wonderful wildlife.
Wetland Centre
10am Official Opening by Alex and Aimee Le Sueur
10am Tweet Talks – Private Life of Birds (in bunker)
11am Film – Wild West National Trust for Jersey film
11am Walk – Birds for Beginners with Mike Stentiford MBE
11.15am Photography Workshop with Kris Bell
11.30am Tweet Talk – Once Bittern (in bunker)
12noon Film – Wild East National Trust for Jersey film
12noon Nature Scavenger Hunt with Stephen Le Quesne
12.30pm Tweet Talk – Marsh Harriers (in bunker)
1pm Film – Project Wild Thing
1pm Walk – Birds for Beginners with Mike Stentiford MBE
2.15pm Photography Workshop with Kris Bell
2.15pm Nature Scavenger Hunt with Stephen Le Quesne
2.30pm Tweet Talk – Wellies & Wildfowl (in bunker)
3pm Film – Secret Life of Birds BBC film
3.30pm Tweet Talk – A Bird in the Hand (in bunker)
3pm Dusk Walk with Bob Tompkins, finishing with hot chocolate and biscuits
Le Don Hilton (The White House)
10.30am-1pm Bird Box Making
2pm-4pm Making Food for Birds
Frances Le Sueur Centre
1.30pm-4pm Kids Wild Nature Art with Anna Le Moine Grey