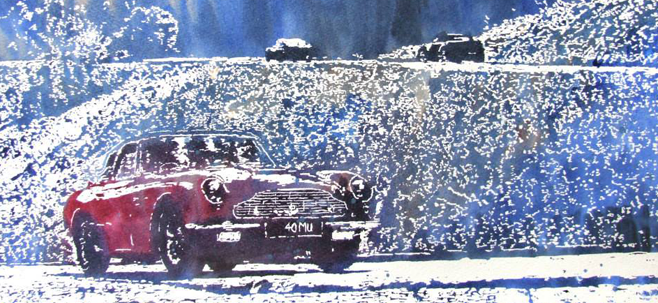 ZEPHYRINE ('ZEPH') BENNETT is holding the first exhibition of her new fine art company at The Liberty Wharf from 10 to 13 October.

Picture: Zeph Bennett and Jeremy Houghton at a BSJA event in the autumn, before the art exhibition
Zephyrine Bennett Fine Art aims to introduce a select few successful, contemporary artists to Jersey, Channel Islands through one or two exhibitions each year. This enables islanders to experience original art that they might not otherwise have a chance to view.  By subsequently working with the Galleries who represent these artists, Zephyrine Bennett Fine Art intends to take Jersey art and artists to a wider audience off the Island.
Her first exhibition in Jersey is sporting artist Jeremy Houghton, whom she discovered at the Affordable Art Fair in London. His paintings were at the stand of Catherine Miller's Hollywood Road Galley, Chelsea.
Jeremy studied law prior to embarking on an art career and joined the art world initially as head of art at the International School of Cape Town. He then returned to his home area of the Cotswolds to start his own full-time painting career.
He has achieved some notable achievements and commissions:  He was official artist for London Fashion Week in 2007, officially painted HM the Queen in 2009, and has had solo exhibitions at some of the world's premier galleries – The Saatchi Gallery and Everard Read gallery amongst others.  He was one of the official artists for the London 2012 Olympic Games and is a resident artist at the Highgrove Estate.
He is currently exhibiting works at the Heritage Motor Centre, Croydon, which he painted as the official artist for the Aston Martin Centenary Tour of Europe earlier this year.
Zeph's own artistic background commenced with her gaining an  MA (Hons) in Art History from the University of St Andrews in 1989. Although working in other fields, she has maintained a keen interest in the arts.   In 2011 she completed the one year full time Certificate of Foundation Studies in Art & Design at Highlands College, Jersey and has completed the first year of the Foundation Degree in Fine Art & Design.
She has been involved with the Jersey Race Club since arriving on Jersey, is learning to sail, rides horses occasionally and body boards in summer.  Her own art work so far has concentrated on three dimensional equestrian pieces.
Jeremy was in Jersey for two days in September to get a feel for the Island. He sponsored a class at the BSJA Derby Competition (where he is pictured with Zeph Bennett), saw the start of the BA Round Island Race from the Committee boat and chatted to folk at the Jersey Race Club Ladies Day races at Les Landes.  He also enjoyed a body-board and beach BBQ at Secrets!
The exhibition is being sponsored by Crestbridge (formerly Dominion Corporate Group).
For further information, please contact Zeph at zeph@zbfineart.com or phone 07797  725709.