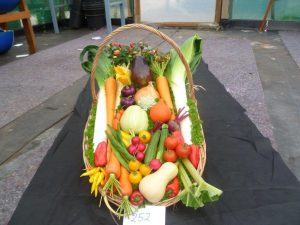 Green-fingered prisoners from HM Prison La Moye have had their efforts recognised at the RJA&HS's Summer Flower and Produce Show.
Prisoners won 11 categories in the show for growing a variety of produce from courgettes to long beetroots. The show was held virtually due to the Covid-19 pandemic. Awards were given to States of Jersey Prison Service for:
Class 256 – Culinary Herb Collection
Class 257 – 1 Culinary Herb
Class 259 – 2 Celery Heads
Class 265 – 1 Cabbage
Class 273 – 3 Long Beetroots
Class 275 – 5 Radish
Class 279 – 3 Parsnips
Class 280 – 3 Leeks
Class 289 – 3 Courgettes
Class 298 – 6 Chilli Pepper
Class 309 – Any Other Kind of Vegetable
Lesley Harrison, Head of Reducing Reoffending at the States of Jersey Prison Service, said: 'Whilst contributing to prisoners' rehabilitation through learning new horticultural skills, producing a small but varied range of salads and vegetables also provides high quality produce for the Prison kitchen, feeding both prisoners and staff, and at the same time contributes to reducing costs.
'To have their hard work and commitment recognised though competition work is a great motivator for those prisoners who are part of the rehabilitation programme and staff who support them.'
*An article on horticulture at HMP La Moye appears in the Autumn edition of RURAL magazine, due out late September 2020.