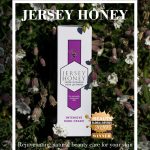 A LOCAL product, Jersey Honey Intensive Hand Cream has been made a Global Awards winner by 'Pure Beauty' magazine, which has named it Best New Hand & Nail Product in its Global Awards 2020.
In its award announcement, it stated: Jersey Honey Intensive Hand Cream places nature's great golden gift – quite literally – in the palm of your hand.
Creator of the hand cream, Shaun Gell, said: 'It has been a long process creating this product range and we are delighted to be recognised by Pure Beauty Awards.'
The Pure Beauty Global Awards scours a huge range of beauty products worldwide in seeking out the 'champion products' to recommend to its readership of industry professionals and experts.
Shaun continued: 'With this award, Pure Beauty recognises our hand cream as being of unsurpassed quality, standing out from other nascent hand and nail products also assessed. It is a true honour to receive such esteemed recognition, and one that has truly been years in the making.
'Although new on the market, our hand cream is the product of years of research; the culmination of an exhaustive process to procure only the very best natural ingredients.
'Ingrained deep within each bottle of Intensive Hand Cream is our very own super ingredient: honey of such fine quality it is genuinely unsurpassable the world over. Jersey is renowned for the exquisite quality of its natural produce, and it is here that our honey is exclusively farmed. It is uniquely rich in minerals and antioxidants required to keep skin healthy.
'As a result, our hand cream contains benefits for your skin that honey based high street products simply cannot match.'
Pure Beauty is the UK's leading independent resource for the beauty industry. It is curated by a team of journalists with extensive knowledge across all beauty product categories and sectors. It had a diverse readership of beauty industry members and Shaun said that it was a highly trusted and respected authority, its words heeded on shop and salon floors across the UK and beyond. The Pure Beauty Awards recognise the very best products the beauty and cosmetic industry produces.'