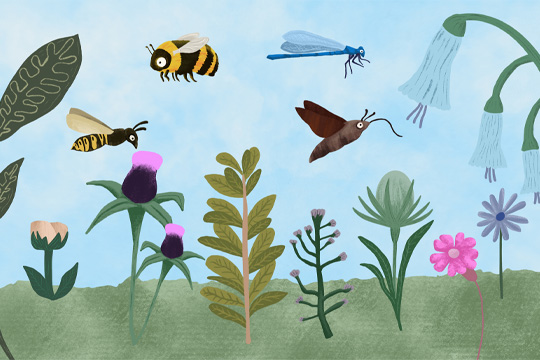 The Pollinator Project.JE and the Jersey Biodiversity Centre is hosting a range of free virtual pollinator themed activities for all ages this summer.
Although the centre is looking forward to meeting school children, community groups and the general public after covid restrictions are lifted, they are making their activities and talks virtual to promote the importance of our insect pollinators and 'why you need to Bee Friendly'.
They have a range of talks and activities focusing on helping you discover, learn and get involved: and how you can Bee Friendly.
Activities include:
*What are pollinators?
* Making a home for pollinators
* Get involved with an insect pollinator survey.
The talks and activities will be hosted on Zoom. Tickets can be reserved through Eventbrite. Talks will be advertised through Facebook @JerseyBiodiverstiyCentre.
Schools are being invited to join and the Jersey Biodiversity Centre can arrange virtual LIVE lessons using Google Meets and Zoom to meet your students and staff. Primary schools will receive a menu of the pollinator lesson choice available. Please e-mail sarah.maguire@societe-jersiaise.org to arrange your virtual lesson.
The programme has already begun, but still to come are:
29June at 17:30 Virtual Workshop – DIY Pollinator Hotel
14 July at 18:00 Virtual Talk – Bee hotels: What to look for and how to DIY
…and many more to follow.
Sarah Maguire, the education and outreach officer of the Jersey Biodiversity Centre said: 'The talks and activities are designed to inspire you to Bee Friendly, support pollinators and help save these important creatures.'