A TASTE OF HONEY…
.. and a silver spoon. Bob Tompkins writes on bees and the buzz in Jersey, in RURAL's Summer issue of 2014
A SILVER SPOON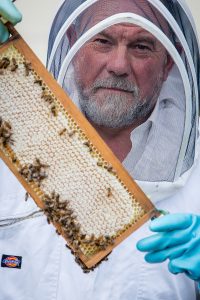 A swarm of bees in May
Is worth a load of hay
A swarm of bees in June
Is worth a silver spoon
A swarm of bees in July
Isn't worth a fly
ON any warm day between April and September there is a chance of seeing a swarm of bees, though you may hear them before you see them. While all your instincts tell you to run and hide, if you stand still and watch, you will experience one of the wonders of nature and while the bees are noisy and flying everywhere, bees in a swarm are not aggressive and are unlikely to sting.
When bees first emerge from a hive they roar like a jet engine but this quickly changes to very loud buzz and if you look around all you'll see is a chaos of bees but this isn't as chaotic as first appears. The swarm has a purpose and that is to protect the queen and as birds that eat bees have very sharp eyes and would quickly target the largest and slowest moving bee, the best defence is confusion.
Keep watching a little longer and the buzzy confusion quickly changes to something more organised and as soon as the queen has settled all the flying bees start to coalesce into that classic upside down sugar loaf we call a swarm.
So why do bees swarm?
Unlike other colony forming bees and wasps, honey bees do not produce lots of self-reliant queens who hibernate through the winter and start new colonies each spring. Their strategy is to keep the colony alive through the winter by storing stabilized nectar (honey) to feed on in the lean months. This gives them an advantage in the spring as foragers are available earlier than their competitors.
As bees require the protein from pollen to produce eggs and larvae, it is the early spring flowers that trigger colony expansion and the better the flowering the faster the colony expands. It is this expansion that is the main trigger for swarming.
As the hive starts to become overcrowded, special large queen cells are produced in which normal worker larva is fed on a high protein food called royal jelly and quickly becomes a queen. It takes about nine days for the larva to mature and when she start to pupate the trigger is cocked for swarming. As soon possible, the existing queen will leave the hive, taking up to half the worker bees.
This may happen many times in a good year. While it is a natural instinct for the bees, it is a disaster for the bee keeper, as the fewer the workers, the poorer the honey crop. Bee keepers try to combat the swarming instinct by expanding their hives early and they use other more complicated techniques but these are never totally successful. So even the best bee keepers have swarms sometimes.
In the days when the rhyme, A Swarm Of Bees, was written, most hives were made of straw in the winter for use in the spring and summer, and then destroyed in autumn to obtain the hive products. So collecting a swarm was one of the ways a bee keeper obtained his/her bees – and that's why the timing was important.
The two hive products that were – and still are – valuable were honey and wax. Of the two, wax was more valuable than honey but it is the amount of honey that a May or June swarm produced that provided the capital to buy in hay to keep a cow and calf alive through the winter, or a silver spoon, which was money in the bank for the bee keeper.
So it made sense that the earlier in the season you started your hive, the more of both you could harvest and certainly by July, when the main nectar flow was over, a swarm would have been more trouble than it was worth.
Nowadays, with our mass-produced weatherproof hives and cheap sugar, a bee keeper doesn't need to start again each year, as after the honey crop is taken, the sugar provides a cheap substitute to keep a colony alive through the winter.
That does not mean that bee keepers are not interested in swarms. Like most pollinators, honey bees are in decline and bee keepers struggle to maintain colony numbers. Swarms have a value not just for established bee keepers, but as a way of helping new bee keepers to establish their apiaries.
There are risks though, and all swarms are now considered to be possible bee disease vectors and are placed on isolation sites for a year while they are monitored for any possible infections.
So back to that swarm you watched: now that it's settled, who do you contact? Well here in Jersey the Jersey Bee Keepers' Association has swarm collectors in each parish and if you phone your parish hall, the police station or the Environment Department, they should be able to supply their contact details or those of the Island's swarm co-ordinators who will pass on your details.
*The full list is also available on the website of the Jersey Beekeepers' Associsation: jbka.org.je