Genuine Jersey has announced yet more additions to its growing community of local producers, makers and artisans which includes an award-winning cake baker, a driftwood artist and an animal lover with an artistic eye.
Harriet Docker is new to the island, bringing with her the award-winning Little Loaves business which delivers delicious cakes perfectly portioned for one person. Harriet's little loaves save on wastage and packaging and are made using the freshest Jersey ingredients available. The trained patisserie chef said: 'When I was a visitor to the island I always searched out the Genuine Jersey hallmark as I like to shop local. Having now moved here it was important that my cakes also bore this symbol as a sign that they have been through stringent checks and are of local provenance. I'm excited to see how the Island will influence my flavours and cake designs.'
David Le Boutillier is enjoying his retirement as an art teacher through setting up a small craft business called Shoreline Reflections. David collects and recycles beach driftwood, sometimes adding oil painting decoration, into unique and beautiful artefacts. Find framed mirrors, wall hangings and sculptures amongst his collection each with its own Jersey twist. His work is available online or at his small home gallery in St Brelade.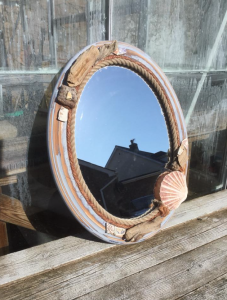 Rocque Paper Scissors is an online store created last year by Kat Read that offers personalised paper cut prints and gifts. The venture was born from a desire to support animal protection efforts with 10% of sales going towards conservation charities. Kat's most popular gift is paper cut paw prints inspired by her walks on Jersey's coastlines. Being environmentally conscious, Kat ensures that sustainable and recycled materials are used whenever possible in her designs. She said: 'I am really proud to become a Genuine Jersey member and part of the culture, taste and tapestry of the island.'