A NEW permanent Chief Veterinary Officer has been appointed.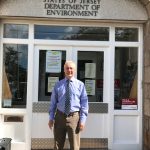 Alistair Breed, who has more than 30 years' experience of State Veterinary medicine, has taken up his role at the Department for Growth, Housing and Environment. He replaces Interim Chief Vet Brian Smith, who was appointed to temporarily fill the position last May, while a permanent replacement was found.
The role of the Chief Vet is to promote the best animal health and welfare practice for farmed, captive and domestic species in Jersey. The Chief Vet also works to control diseases in animals, safeguard animal and public health as well as to facilitate the international trade in animals and animal products.
Mr Breed, who has more than 30 years of experience of State Veterinary medicine, qualified as a veterinary surgeon from the University of Liverpool in 1984. He spent the first part of his career working in private veterinary medicine before entering State Veterinary medicine.
Mr Breed has moved from the Isle of Man where he was the Chief Veterinary Officer at the Department of Environment, Food and Agriculture. In addition to his veterinary work, Mr Breed also undertook a variety of roles while working for the Isle of Man Government, including within strategy and policy, infrastructure and change management.
He is also familiar with the relationship between the Crown Dependencies and United Kingdom which will be beneficial when working as part of an existing team taking Jersey through the Brexit process.
Mr Breed said: 'I have travelled to Jersey on business several times over many years and I've always enjoyed my visits to the Island. I have a long experience of living on a small island and I'm delighted that I now have the opportunity to live and work in Jersey. I look forward to getting to know the Island and its people better and working to help to safeguard and improve the quality of life for people and animals.'