IN THE KITCHEN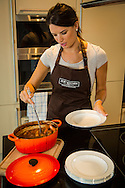 Our cookery writer, Zoë Garner, talks sugar and spice and all things nice – and gives us some heart-warming recipes to get us in the mood for autumn…
Whats in season?
Pumpkin
Not just great for carving on Hallowe'en, they are sweet and delicious to eat too. With a great source of fibre and full of vitamins and minerals, they are a great addition to many recipes. Choose a pumpkin with a smooth, firm skin and one that feels heavy for its size.
[Warming Fig Croustades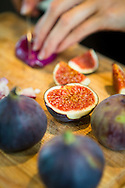 Delicately spiced with a crunch and smooth creamy finish
Makes 24 Croustades
1 red onion, finely chopped
4tbsp dark brown soft sugar
1 cinnamon stick
1 star anise
1/2 inch ginger, grated
4tbsp red wine vinegar
4 figs, roughly chopped
125g (4oz) goats cheese
a pack of 24 croustade, available from Waitrose
rocket, to garnish
1 Put the onion, sugar, spices, ginger and vinegar into a pan and cook over a medium heat for 5min, or until the onion has softened.
2 Add the fig and cook for a further 5min, until the figs just start to break down. To serve, divide the goats cheese between the croustades, along with the fig mix and top with a little rocket.
Zoë's Tip:
If you can't get your hands on the Croustades then use Bruschetta instead.
Root Vegetable Beef Stew
A great winter warmer thats full of flavour and easy to throw together
Serves 6
2tbsp oil
1kg (2lbs) stewing steak, cut into 5cm (2in) pieces
1 red onion, finely sliced
2 carrots, peeled and quartered
2 parsnips, peeled and quartered
400g pumpkin or butternut squash, deseeded and roughly chopped
2tbsp plain flour
2 garlic cloves, crushed
150ml (5floz) red wine
750ml (11/2 pints) beef or vegetable stock
2tbsp tomato puree
1tbsp redcurrant jelly
a small handful of freshly chopped sage leaves
1 bay leaf
1 Preheat the oven to 150C (130C fan) mark 2. Heat half the oil in a hob-proof casserole dish and brown the beef in batches, set aside.
2 Heat remaining oil and gently fry the onion for 5min, until softened. Add the carrots, parsnips and squash and cook for a further 5min.
3 Return the beef to the pan and sprinkle over the flour, add the garlic and cook for 1min. Gradually stir in the wine and stock, everything should be covered. Add the tomato puree, redcurrant jelly, sage and bay, season well and bring to the boil. Cover and cook in the oven for 3-31/2hrs, until the meat is tender. Serve with mashed potato or swede and greens.
Zoë's Tip:
You'll know when the meat is tender as you should be able to cut it with a spoon.
Spiced Pumpkin Cupcakes

Something a little different that's sure to impress. But if your short for time and fancy treating yourself then Zoë can bake these for you! Order online or telephone – details below.
Makes 12 Cupcakes
150g (5oz) butter, softened
150g (5oz) light muscavado sugar
3 large eggs, at room temperature
200g (7oz) pumpkin or butternut squash, coarsely grated
75g (3oz) sultanas
zest of 1 orange
2tsp cinnamon
175g (6oz) self raising flour
1tsp biacarbonate of soda
For the buttercream:
150g (5oz) salted Jersey butter, softened
200g (7oz) icing sugar
4tbsp dulce de leche or carnation caramel
For the Brittle:
125g (4oz) caster sugar
50g (2oz) pumpkin seeds
1 Heat the oven to 180C (160C fan) mark 4. Line a 12-hole muffin tin with paper muffin cases. To make the cakes, put the butter and sugar into a large bowl and beat with an electric hand whisk until light and fluffy, about 5min. Beat in the eggs a little at a time. If the mixture looks as if it's about to curdle, add 1tbsp of flour.
2 Put the grated pumpkin in some paper kitchen roll and squeeze out any excess water. Fold into the cake mix along with the sultanas, orange zest, cinnamon, flour and bicarbonate of soda. Divide the mixture among the muffin cases. Bake for 25min, until firm, springy to touch and an inserted skewer comes out clean. Transfer to a wire rack to cool completely.
3 To make the buttercream, using an electric hand whisk beat the butter until very pale and soft. Gradually beat in the icing sugar followed by the dulce de leche. Top each cooled cupcake with the icing and swirl with a flat bladed knife to form peaks.
4 To make the brittle, put the sugar and 4tbsp water in a pan over a medium heat, to gently dissolve. When the sugar has dissolved, turn up the heat and boil until just golden, be careful to not take it too far as it will burn and taste bitter. Quickly pour onto a lined baking sheet. Scatter the pumpkin seeds on top and carefully press them in using a wooden spoon. Once the brittle has cooled and set, break into pieces and decorate the cupcakes.
Zoe's Tip:
Get ahead and freeze the undecorated cupcakes. Great to have as a standby for last minute tea parties with friends.
Zoe's Quick Kitchen Tips:
No more burnt onions
Add a few pinches of salt when cooking onions, the salt will encourage the moisture out of the onion, allowing for more cooking juices, therefore reducing the risk of burning, they'll also cook quicker too! Double whammy.
If it makes the cut…
Next time a recipe calls for chopped bacon, rather than using a board and a knife, cut it with scissors instead, dropping it straight into the pan. The blades of the scissors slice straight through the fat making it quicker and easier.
Chilly eggs…
More so than often, you need eggs for baking that are room temperature. So if you've kept them stored them in the fridge, just pop them in a bowl and cover with hot water. Leave for a few minutes, and then use as normal.
*See Zoe's website: www.Zoes-Kitchen.com or call her on 07829 888 864.